Ukrainian student makes dream come true at OCCC


A 26-year-old nursing major has found herself grateful to OCCC after a challenging start and originally not wanting to come to Oklahoma.
Lyubov Popovych, whose first name means "love" in Ukrainian language, said she at first resisted moving to the U.S. for school, but has found the experience exciting and rewarding.
Popovych said her English professor and friends at her university in Ukraine inspired her to come to the States to pursue her studies in nursing.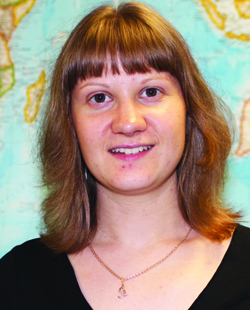 Lyubov Popovych
Popovych said she became interested in being a nurse after interacting with her neighbor, who was a nurse.
"I always liked what she did, being a nurse, and that motivated me to become a nurse," she said.
Coming to the United States provided her with a better path to becoming a nurse, Popovych said.
"Studying nursing in Ukraine was almost impossible for me because it's very expensive over there," she said.
Ukraine is an Eastern European country that borders Poland, Romania and Moldova in the west, and Russia in the east.
It is the world's 27th-largest country in terms of population, according to CIA World Factbook.
Arrival in the U.S.
Popovych said she first came to the United States in the summer of 2007 for a girls summer camp in Maine.
However, she said, she enrolled at OCCC in the English as a Second Language program in fall 2008 and saw things that impressed her.
She said she still remembers the day she met OCCC President Paul Sechrist.
"It was very interesting to meet the president of the college in the first day," Popovych said.
She said she was amazed to see the college so big and well facilitated, and was surprised to see the college had computers nearly everywhere.
"We don't have computers everywhere in the universities in Ukraine," she said.
Popovych said OCCC is a great place for students to start their educations. She said the people she has met are always ready to help.
"I am very grateful to OCCC because it makes possible to make my dream comes true," she said.
Popovych — who has fallen in love with American foods such as salsa with chips, doughnuts, bagels and lasagna — has a vision of the college many full-time students don't get.
She has worked for the college part time since 2008 at Carson's Cafeteria in the College Union.
Popovych said she likes working in the cafeteria because her supervisor is always flexible with her schedule and people are helpful and nice.
Corrine Aguilar, general manager of Carson's Catering & Food Concepts, describes Popovych as a reliable, responsible and trustworthy person.
She said Popovych always tries to learn different things and also shares some of her cultural differences with those around her.
Notable differences
Popovych also has been able to share some of her culture with those outside the college.
Popovych, who lives with an American host family, said she has seen a lot of differences between the U.S. and her home.
She said public transportation is much easier in Ukraine.
"There are busses, trains, trams and subway everywhere," Popovych said. "And it's cheaper to use public transportation rather than having your own car."
She also finds the weather of Oklahoma different than that of her country.
There are four seasons in Ukraine and one can easily notice them. But it's different in Oklahoma, Popovych said.
She said she thinks the weather changes too fast in Oklahoma.
The language differences also have posed challenges, Popovych said.
She said she used to say "broom" instead of "groom," which makes her still laugh sometimes.
Popovych said she was fascinated when she learned about American Indians after visiting the National Cowboy and Western Heritage Museum in Oklahoma City.
"I used to think that Native American doesn't exist anymore," she said. "I really liked the history and culture of Native Americans."
Though she said she still has a long way to go, Popovych said she is thankful for what she achieved at OCCC and her host family.
"I am very grateful to my host family who supports and helps me in everything," she said.
Popovych said she believes if a student is ready to study and work hard, OCCC provides the best opportunity.