Students first to graduate from service tech class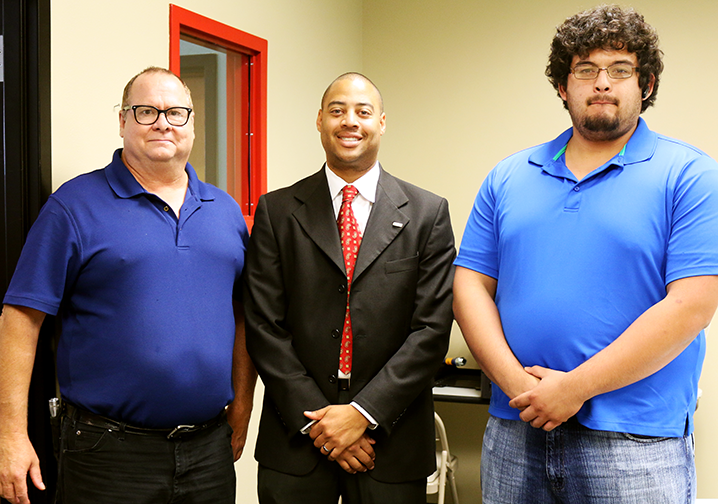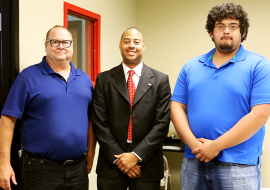 Five students just started a new chapter in their careers after graduating from the Commercial Food Equipment Service Technician program offered by OCCC through the Professional Development Institute, said CFEST Program Director Lorri Romero.
CFEST is a new program OCCC offers to unemployed students, she said.
On Aug. 21, Jim Hensley, Dennis Baker, Treleshia Prince, Nate Highberger and Jose Bocanegra-Yanez became the first students to graduate from the program. All received certificates, Romero said.
She said all of the graduates should now be able to find work in the restaurant industry.
Romero said that work would focus on the "hot side" of food service — basics in electric, gas, steam and hydraulics and pneumatics — as well as repairing commercial kitchen equipment for restaurants, schools, cafeterias and prisons — "any place that has commercial kitchen equipment that serves food to the masses."
Romero said the five graduates spent the four- to six-week condensed course working through separate weekly modules, where students learn everything from safety, to hydraulics pneumatics.
Deployment and Education Coach Regina Clear said graduates learned how to be successful in finding a job.
"They learned job readiness skills related to getting on the job and staying on the job," she said. "They learned interview techniques and they came up with a professional résumé."
Graduate Jim Hensley said he took the course as a refresher and to get the necessary paperwork to get back into the field.
"It was like exercising a muscle," he said.
"It helped me rebuild some skills I had but if you don't use it, you lose it. It's been very beneficial to me."
Romero said the program is funded through a $2.4 million Trade Act Assistance and Community College Career Training Grant.
"It combines funding from the Department of Labor and the Department of Education to develop training opportunities leading to certifications or degrees in a condensed format in a shorter period of time to get people back into the workforce," she said.
"It's money set aside from the Department of Labor for people who are left unemployed because of a business that picks up and moves out of the United States or moves to another country." This is the first CFEST graduation ceremony, Romero said.
She said with more students joining the program, there will be many other people just like Hensley getting their careers right back on track.
"Sponsored by the U.S. Department of Labor, the CFEST Program was developed in cooperation with the Commercial Food Equipment Service Association to prepare students with the technical skills necessary to gain employment in the commercial food equipment repair industry. As indicated by industry employers, the demand for skilled repair technicians is ever increasing," according to OCCC's website.
Hensley said he has already started lining up his career plans.
"I plan on interviewing with some prospective employers and I hope to be working in a week or two."
For more information about the program, visit www.occc.edu/pdi/cfest.html