Sabra hummus great for dipping anything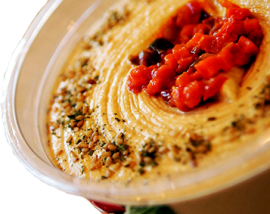 I've never really been a fan of ranch dressing (am I even American?). However, I do like vegetables and something to dip them in. Recently I saw hummus at the
grocery store and remembered my affection for it. Carrots, bell peppers, popcorn, Fritos, pita chips — it all tastes delicious covered in Greek chickpea goodness.
I've made my own hummus several times, but I just can't beat the flavor of Sabra's varieties. Walmart sells containers of them for around $3 but I'm a hummus addict and have to get mine in bulk at Sam's. Still, a tub of it only lasts me a few weeks. Most recently I ate the Roasted Garlic flavor and was not disappointed.
It's incredibly smooth and has a hefty spread of minced garlic on top, which is meant to be stirred into the dip before devouring. I currently have a container of it in the fridge at work. The Roasted Red Pepper is my least favorite. It's creamy but its flavor pales in comparison to the other options Sabra has. It just tastes like mush. Last time I bought it, I had to season it up myself.
My favorite is the Tuscan Garden hummus. I don't know how many different herbs they put in that stuff but it's perfectly salted with a fresh Italian taste. It is richer than any of the other Sabra flavors. I could eat a whole cup of it in one sitting.
The Supremely Spicy version also is tasty. It has a nice kick to it without being too spicy for this wimp. Hummus is a decently healthy snack and can be made healthier by whatever you dip in it. It's pretty portable, too.
You can pack a container with an ice pack for a fast snack. Heaven forbid you eat it straight out of the bowl with a spoon.
Hummus can go on eggs, toast, celery, tomatoes or breadsticks — the list goes on. At this point I'm just looking for a reason to eat hummus.
Perhaps it should be sold in to-go tubes.