Arts Festival Oklahoma 2015 saw an estimated 16,000 attendees, said Cultural Programs Events Coordinator Chuck Riley. Although the number is down from last year's of 17,825, Riley said, he believes each and every one who attended this year's festival had fun — especially the children.
He said the Children's Creative Center was well received and the button maker table was definitely a hit.
"They made buttons that they could pin to (their clothes)," Riley said.
"So we're going to make that a staple and get our own button maker for next year."
Collin Rosebrook's Paseo Pottery booth and the Gourmet Food Court that offered a wide variety of foods also made fair goers happy, Riley said.
Riley said he believes Sunday was the busiest day for AFO because every parking lot was full. This was likely, he said, because of visitors who came to hear the Philharmonic Orchestra.
Seemore Art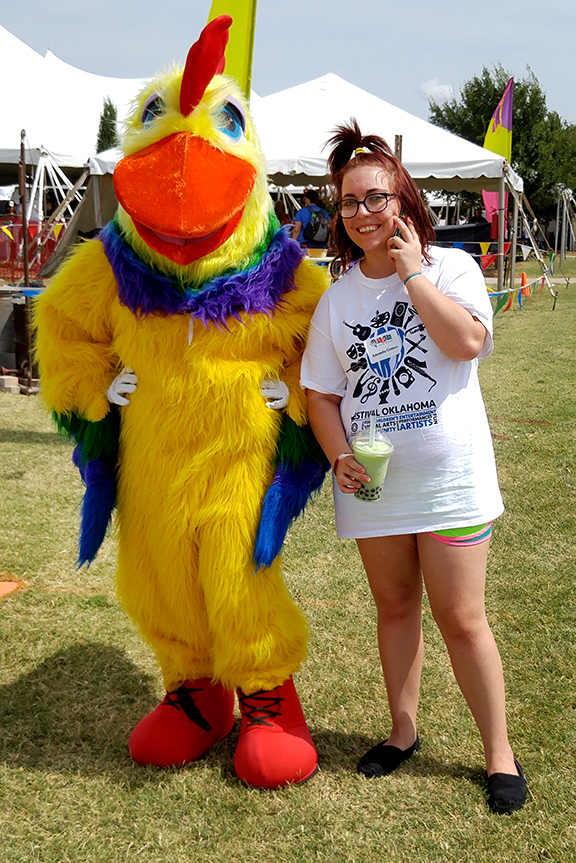 "It was neat to see all the parking lots full and all the people coming out to hear the Philharmonic and watch the fireworks and eat turkey legs," he said.
Riley said once they get everything taken down and tally all the figures, they will start preparing for next year.
From lining up possible entertainers to speaking to sponsors, Riley said, he knows AFO planning for 2016 will start immediately.
"Between Kevin Brandon in Facilities, who is like my counterpart for the facilities portion of it, and me, we're putting together a playbook," Riley said. "We need to start building next year right now.
"There is stuff that has to go to the print shop and I want to get that stuff there early — months in advance."
For more information about Arts Festival Oklahoma, visit www.occc.edu/af
. For more pictures from the event, visit the Pioneer Online at pioneer.occc.edu.