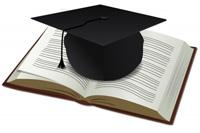 Biology major Jaden Walker said he wishes he had known of OCCC's Honors Program in his first semester at OCCC.
Walker learned of the Honors Program through a professor who urged him to apply, which he did in the summer of 2011.
The Honors Program gives students the opportunity to go beyond the normal academic requirements.
Through the Honors Program, students and professors work together to form an academic plan that lets students push their knowledge by creating insightful assignments, Walker said.
English professor and Honors Program coordinator Nina Smith said students have to be willing to take the opportunity and accept the academic challenge of the Honors Program.
"These students go above and beyond to distinguish themselves with honors," Smith said.
For students to be eligible for the Honors Program, they must have a 3.5 cumulative GPA or a composite score of 22 or higher on the ACT.
OCCC has 50 students currently enrolled in the program with seven graduating with honors this semester, Smith said.
While the program is based solely on academics, Honors Program students benefit in other ways too.
"I can do whatever I want at my own speed and work directly with the teachers, which is a lot of fun," Walker said.
In Chemistry II, Walker learned how to work with organic chemistry and synthesize insect pheromones.
Through the Honors Program, Walker said, he is able to further his education beyond the knowledge one would receive in a regular course.
In addition to having it look good on a resume, honor students are able to know their professors better because they work together to form their honors contract.
Walker is scheduled to graduate this spring with his associate degree in biology with 20 honors credit hours, more than the 15 required by the program.
Despite getting a late start, Walker said, he has no regrets about his involvement with OCCC's Honors Program.
"We decided I should go for it and I haven't looked back since," Walker said.
To learn more about the OCCC Honors Program, or to fill out an application, contact Nina Smith at 405-682-1611, ext. 7141. You can also visit the website at www.occc.edu/honors/index.
To contact Rachel Tillman, email onlineeditor@occc.edu.