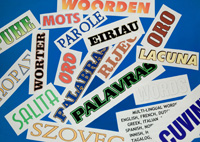 Students struggling to learn a foreign language can find free help online with the library website's Mango Languages learning system.
Mango Languages offers students the opportunity to study foreign languages on and off campus.
The availability and convenience of off-campus use is one reason the library chose Mango, reference librarian Rachel Butler said.
Mango is used by one in five North American libraries, about 85 million library patrons, according to the website.
In addition to libraries, the Mango software is also used by many federal agencies and schools.
Mango offers 38 languages for students to learn, according to the Mango Languages website.
The most popular languages offered on the website are Spanish, German, Italian, French and Pirate.
Mango allows students to have fun while learning.
The Pirate language is one example.
"It's got whole lot of languages, including Pirate which they're pretty proud of, I think," Butler said
Students can learn how to speak like a pirate, with phrases like "blow me down" and "shiver me timbers."
Nevertheless, Mango is a serious learning tool, Butler said.
Mango Languages has been available to students through the library's website since last summer, Butler said.
Students can create a learner's profile on the Mango website and track their progress through the program.
Students can also get the Mango Languages app, available on iPhone, iPad, and iPod Touch.
To download the app, students must create an account with Mango Languages via the library's website.
The online language learning system focuses on practical conversation skills and can help students with pronunciation, vocabulary and grammar of a language.
"It (Mango Languages) has a variety of exercises and ways they present the information," Butler said.
Butler said the program offers some cultural information about each language, in addition to vocabulary and language structure.
Mango Languages can help students improve pronunciation interactively.
If the computer has a microphone, students can match their pronunciation with the pronunciation on the program and improve their pronunciation of certain words and phrases, Butler said.
Mango also benefits international students who are learning English as a second language.
The website offers tools for ESL students to build their English-speaking skills, Butler said.
For more information about Mango Languages contact Rachel Butler at 405-682-1611, ext. 7643 or email butler at rbutler@occc.edu.
To contact Emily Mayes, email onlineeditor@occc.edu.