Nearby Thai restaurant affordable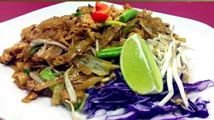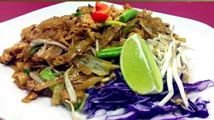 I love Thai food. I usually eat it at least once a week from a half dozen restaurants near my home. When I found out a new restaurant, Royal Thai, was opening near OCCC I had to try it.
I went for lunch on Tuesday.When I arrived around noon the place was quiet with only a few customers sitting in groups or alone.
Tucked into a shopping center  at 2142 W I-240 Service Rd, Royal Thai is only a little more than a month old, and still waiting for people to discover it.
The restaurant was nicely decorated with cheerful colors and lots of traditional-looking Thai elements, but not fancy.
The menu was large. It would be a great place to eat dinner. But, being short on time — and a poor student — I chose to focus on the more limited and cheaper lunch menu, which allowed me to sample several dishes at once.
With the lunch special you get your choice of two: fried rice, white rice, or pad thai. Then choose one of two dishes usually involving chicken and traditional Thai sauces. Last, choose one of several curries. A spring roll is included.
I had the pad thai and fried rice. I chose a massaman curry with chicken and potatoes served in a curry sauce with lots of coconut milk. I also had lava chicken which tasted like Chinese orange chicken, but with pepper and spice that gave it a unique zing. I chose Thai tea for my drink.
Overall, the food was great although the lava chicken was crispier than I would have liked. Still, for the price it is hard to beat.
The lunch special is only $7.99.
The portions were so large I had to take home leftovers, and ate them twice.
Both times the service was excellent, quick and friendly.
I would definitely eat there again.
Rating: A-