Multimedia, Computer-Aided Design programs combine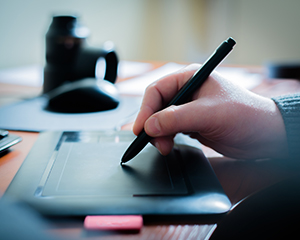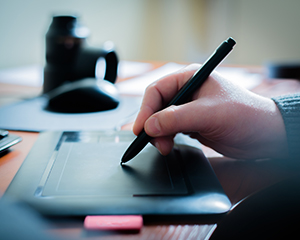 Students involved in OCCC's GCOM Multimedia emphasis program and Computer-Aided Design programs will soon see a change, said GCOM professor Randy Anderson.
The programs will be merged and renamed the Digital Media Design department.
Anderson said the move is being made because of some of the programs being similar.
"There was a little bit of duplication of programs with what we were teaching, so it made sense to go ahead and put us together … ."
Before, Anderson said, the Computer-Aided Design department had three emphases: Animation, Game Design and Digital Media Design.
"I also had a Multimedia program over here," he said.
"They're moving animation and game design into GCOM, and we're changing the name of GCOM to Digital Media Design. Anything that was in that Digital Media Design option is being dropped."
Anderson said the merger will make it easier to decipher the programs.
"… We're going to be in one spot, where we probably should have been all along," he said.
"Whatever the program name would be, it doesn't really matter. We probably should have been together in a group anyways."
Anderson said that very little will change for the students.
"For students, they will still receive good training in those areas and that won't stop. We'll just be in one place."
The previous Digital Media Design program offered an associate degree and a certificate of mastery.
The CAD programs were overseen by Computer Aided-Technology Chair John Helton. Helton said OCCC has offered Digital Media Design for close to 10 years.
Anderson said the new options are somewhat different.
"The animation and game design aspects will both have certificates," he said.
"The graphic design, the photography/digital imaging option will have degrees. It will be just those four."
Anderson said students enrolled in the new programs can expect many of the same elements as before.
"They would still be learning the Adobe suite, so they'll be learning Photoshop, Illustrator, and InDesign," he said.
"Along with that, they'll be learning 3D studio, Macs, Flash, a little bit of After Effects and Premier."
Anderson said opportunities will be abundant for students in the new programs, as careers in digital design-related fields grow.
"There's a lot of jobs in graphic design," he said.
"It could be print, it could be for mobile devices.
"… You could be a photographer … doing stuff within the photographic industry.
"… It could be animation … or it could be maybe dealing with motion graphics at news stations or for the web.
"You could be building trailers for the web — anything basically that has motion graphics or video.
"Then the game design, it's, well, game design."
Anderson said this move has not been finalized yet, but will be soon.
"It hasn't been signed off on yet by the regents, but it should some time this semester," he said.
For more information about the new program, contact Anderson at randerson@occc.edu or 405-682-1611, ext. 7218; Computer Aided-Technology professor Justin Shaw at 405-682-1611, ext. 7498; or Arts Division Dean Ruth Charnay at 405-682-1611, ext. 7143.
To contact Clayton Mitchell, email sportswriter@occc.edu