First Sooner game mixed bag of emotions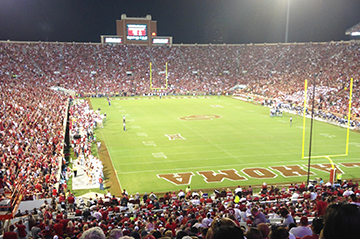 As I may have mentioned a time or two in other reviews or blogs, I am a huge University of Oklahoma fan.
I plan to go there after I graduate from OCCC, and have supported their sports teams my entire life.
So when my girlfriend, an OU student, offered me her student ticket to the first home football game of the year because she is going out of town with family, I could not refuse.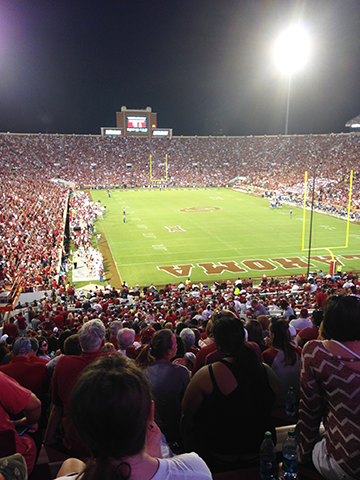 Before going into the stadium to watch my beloved Sooners take on the Akron Zips, I met with friends, and made sure to take a pit stop at the restroom.
By the time I got in line at the gate, it was about 25 minutes until game time. When I reached the gate, it was five minutes before kickoff.
I also learned the hard way that with a general admission student ticket you must show an OU student ID to get inside.
After a relatively quick and painless wait in line to pay an upgrade fee for my ticket, I found myself walking into the stadium to people fighting and the opening kick-off just seconds away.
The game itself was terrible at first, but got better, and overall, was an enjoyable experience.
As a bonus, I got to watch my sister, — an all-state high-school cheerleader — on the field during halftime with the Pride of Oklahoma marching band.
But what really stuck with me about the game was the environment.
People went crazy and showed great support for their team. At the same time, they were terrible to deal with.
Showing up a little late, there was nowhere for me to sit, and people were extremely rude about me having to stand.
A lady even threatened to make me pay for an empty seat she had when I simply asked to sit down during a timeout.
Despite that, I enjoyed myself.
I went home sweaty and satisfied with an OU victory.