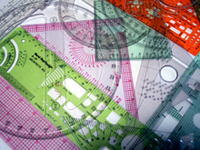 Students planning to take fall classes should enroll now to avoid the rush said Admissions Adviser David Orsburn.
"If you wait 'til the last minute, when classes are about to start, you'll probably face lines," Orsburn said. "I would say as soon as enrollment opens, come on in and get it done to avoid lines."
Orsburn said the average time for on-campus new student enrollment is 10 to 30 minutes from the moment the student first sits down with an admissions adviser. Mailed applications take about a week, he said.
Orsburn said students wanting to enroll should bring a valid ID, and any transcripts, ACT test scores, degrees or diplomas they have.
"People come in here all the time and say, 'I wasn't sure if I needed to bring it, so I didn't.' Do just the opposite. If you don't know if we'll need it, bring it in," he said.
Orsburn said there are few instances that will prevent prospective students from enrolling.
Students who have been suspended at least twice from OCCC and international students whose visas don't allow for education will not be admitted, he said.
And, Orsborn said, age factors in at some point.
"Obviously, a 10-year-old can't walk in and get admitted," he said.
After admissions, a student's next port of call is Student Financial Aid Services, said Harold Case, the department's dean.
"The first thing we're going to do is send them over to one of our computers to file the [Free Application for Federal Student Aid]," Case said.
He said students should bring their most current tax filing information.
Once the application is submitted, the college receives information on students who have been awarded, and on students who are selected for verification, Case said.
"In the case of a student who's been selected for verification, we ask them to come in an clarify certain points," he said.
For dependent students, he said that usually involves a worksheet that clarifies the number of dependents in a household, as well as IRS tax transcripts for all tax information submitted.
"It used to be that the form we needed was the 1040 but the regulations changed and we can't accept those anymore," he said.
The transcript is a document that has to be requested from the IRS. Case said there are efforts under way to streamline the procedure.
"One of the ways you can avoid having to bring in that transcript is to use the tax data retrieval function when filling out your FAFSA," he said.
For those who are eligible to use it, Case said, the function appears as an option during the tax information portion of the application. It collects an applicant's tax data directly from the IRS and inputs it into the proper fields, he said.
While the option can be bypassed, Case said it's also available to students who are selected for verification.
"So if you want, you can go back into the FAFSA after being selected for verification, and if one of the things we need is the tax transcript, you can use the data retrieval if you haven't used it the first time.
"Then the data is straight from the IRS and it clears that part of the verification process."
Once financial aid is taken care of, students should make a trip to Academic Advising, said Jill Lindblad, Academic Advising assistant director.
"We offer a variety of services to students," Lindblad said.
Those services include helping students choose classes for a degree program, choosing general education classes for students who need to make up deficiencies, helping students who are unsure of what classes to take, and helping students select a doable schedule.
Students need to bring a college ID, any transcripts they might have, placement test scores or ACT scores, Lindblad said.
"Basically, we need to know that they're a student here and have them in our system in order to help them," she said.
Lindblad said her department also offers a video tutorial that covers college terminology, various types of degrees, and class availability. She said advising also can help students learn to use MineOnline to find and register for classes so they can still register on time if they are unable to visit campus.
The advising department also offers assistance with transferring to other universities and coursework planning.
"We look at transfer credits, and how they compare to the credits here, and give you an idea of what that means," she said.
For more information about enrollment, go to www.occc.edu/admissions, or call 405-682-7595.
To contact Jeremy Cloud, email editor@occc.edu.