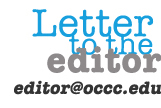 To the Editor:
Now is the time for incoming freshman, new or returning students to enroll in classes at OCCC. Financial aid packages are still available, and the semester is set to begin Monday, Aug. 20.
• Live and in-person: It is important for new and returning students to apply and enroll in-person for best class and schedule availability.
• Bring it all: Students should bring all transcripts with them to be admitted. While OCCC may not need all the educational records, bringing them can save time and speed the process.
• The earlier, the better: The earlier in the day students can arrive to get the enrollment process started, the better.
The shortest wait times are between 8 and 10 a.m. Also, students should arrive at least one hour before the campus closes to better ensure service.
"Although there may be a lot of summertime left, the fall college semester will be here soon. We're planning ahead and encouraging our students to do the same," said OCCC Recruitment and Admissions Director Jon Horinek.
"Financial aid packages are still available, and if students enroll now, they can still get 'top pick' on several of their courses."
OCCC offers well-situated class times and concurrent classes for high school juniors and seniors looking to obtain college credit prior to high school graduation.
OCCC is located at 7777 S May Ave. For more information about enrollment, admission to the college, or financial aid packages, please visit www.occc.edu, or call 405-682-OCCC.
—Kim Holding
Public Relations Specialist