Writer says annual chili cook-off may need to be revamped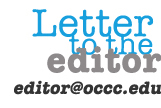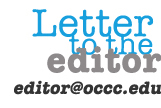 To the Editor:
I noticed recently the annual chili cook off is about to take place.
This led me to wonder: will this year's winning recipe actually be chili?
Last year, several excellent chili recipes were entered — along with one non-chili entry. That particular entry was more like a chicken soup.
I know because I bought a bowl of each entrant's chili last year to share with friends — and a bowl of the winning soup.
It was a great soup. It was tasty, different and quite popular with those who tasted it.
It just wasn't chili.
We wondered how it made it in to the competiton and moreso, how it won.
It was like having a hot dog eating contest with one contestant eating pudding, or a Miss America contest with one male entry. Which of these things is not like the other?
Yes, I know this may sound petty because, after all, the event is held to raise money for scholarships and I believe a substantial amount was raised last year.
So, perhaps it's time to compromise.
Maybe the college's Faculty Association could have a chili/soup cook off instead.
Then, there could be different categories with different winners in each category. Just a thought.
—Name withheld by request