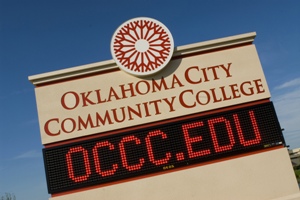 OCCC's Wellness Center, while free to students, is due some updating.
Community Development Vice President Steven Bloomberg said that is about to happen. He said most of the weight room equipment has served its purpose.
"While the current equipment there is functional, it isn't up to the high standard that we hold here anymore.
"It's not on the same level as the equipment in most health clubs … and it's not as good as what you'd find at most major universities."
Bloomberg said Recreation and Fitness employees recently toured the University of Oklahoma Health Center and were impressed by their Hoist equipment.
He said, as a result, the college decided to go with the same brand.
Sports and Recreation Specialist Eric Watson said he was drawn to the brand after learning it offers an integrated smartphone feature — an app that allows users to scan a barcode which then brings up a video demonstrating how to properly use the equipment.
It also recommends the optimal weight or resistance setting for that individual's workout, he said.
According to Hoist's website, hoistfitness.com, the app can help build workout routines specific to the gym itself or to an individual's goals. The app also can track personal progress and workout history.
Watson said the change is great for other reasons as well. He said new equipment tends to be more user-friendly and helps isolate muscles better during workouts.
"That will allow people to just get a better benefit," he said.
Bloomberg said the Wellness Center also will undergo a remodel so the space is more functional.
Watson said a reallocation of space will allow for more cardio equipment and an improved weight room experience as well.
Bloomberg said he is hopeful the update can be done by the end of the semester but said there is no definite date yet.
Watson said there is a firm dedication on the college's part to implement the upgrades and improve the Wellness Center.
He said there are numerous parties involved in making decisions so forming a consensus takes time. "It's a process," Watson said.
For more information, call the Recreation and Fitness office at 405-682-7860, or email Watson at ewatson@occc.edu.