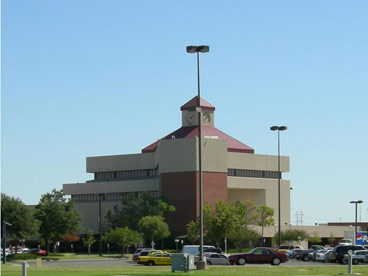 Hispanic Heritage Month, a celebration paying tribute to generations of Hispanic Americans who have influenced and enriched the nation begins Monday, Sept. 15.
Hispanic Heritage Month has been observed across the U.S. since 1988 when Ronald Reagan enacted the law that extended Hispanic Heritage Week (observed since 1968) into a 30-day period, according to hispanicheritagemonth.gov.
The date of Sept. 15 is significant to Hispanic heritage as it marks the anniversaries of independence for five Spanish-speaking nations: Costa Rica, El Salvador, Guatemala, Honduras and Nicaragua. On Sept. 16, Mexico celebrates its independence and on Sept. 18, Chile celebrates its own.
According to the U.S. Census Bureau, those claiming Hispanic heritage make up more than 17 percent of the nation's total population.
Almost 10 percent of Oklahomans are of Hispanic descent and those of Hispanic heritage make up a significant percentage of OCCC's student population; 13.6 percent, according to census data at petersons.com. Those considered Hispanic or Latino make up OCCC's second largest cultural representation.
Student Life Coordinator Kendra Fringer revealed some details about OCCC's plans to observe Hispanic Heritage Month beginning Sept. 15.
"Student Life will be doing slideshows that we'll be able to project onto the screens around the college (and) on the TVs in the large areas," she said.
Fringer said the slideshows will display "significant and important contributions from individuals from Hispanic and Latino cultures.
"And we'll be able to highlight the wonderful things that the Hispanic population and culture have done to help America," she said.
Fringer said Student Life will enlist the help of the school's student workers in arranging their events on campus to promote the learning experience.
"The office of Student Life has always tried to observe cultural holidays to the best of our ability," she said.
"We really wish and hope for students to take action and be involved and lead the cause. That's why we do the slideshows and then we talk to our clubs and student representatives to see what they want to do.
"We let them take the charge and really get ownership of the holiday or the event," Fringer said, "and then we support them and what they'd like to do."
Fringer said she thinks it's important that everyone gets to see what the community is made of and to take time to appreciate a community's diversity.
"Contributions from all the different cultures and backgrounds are important," she said.
OCCC's Community Outreach Coordinator and faculty sponsor to the campus club HOPE (the Hispanic Organization to Promote Education), Paul Burkhardt said that even though the semester is new and that campus clubs are still forming, it is expected that HOPE will take part in the month's celebration. Burhardt expects HOPE to be just as active off campus as on.
"We generally participate in the Fiestas de las Américas." Burkhardt said.
Fiestas de las Américas festivities are held in Oklahoma City's Capitol Hill District and includes a parade, live music, folkloric dance, authentic food and children's activities. It showcases the city's cultural diversity and traditions, according to http://historiccapitolhill.com/fiestas-de-las-americas.
This year's outdoor event will be from 9 a.m. to 9 p.m. Saturday, Sept. 27, along SW 25th Street.
Burkhardt said he's also been in contact with the Plaza Mayor Mall (formerly Crossroads Mall) and something may be in the works for HOPE to participate in a Hispanic Heritage Month event there as well.
He said HOPE will be active in advancing the Hispanic community as much as they are celebrating it.
"We focus now on mentoring and tutoring out in the community," he said.
Students, faculty and staff are encouraged to get involved in the observation of Hispanic Heritage Month. For information contact Student Life at 405-682-7523.
For more information on the Festival de las Americas, visit www.historiccapitolhill.com.