My congratulations to all those who made the Vice President's honor roll. Each of you is an OCCC success story. You do us proud and you are well on your way to acheiving your goals."
—Felix Aquino
Vice President for Academic Affairs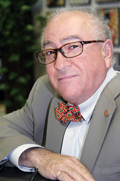 Rachel Morrison/Pioneer
Students are eligible to be on the Vice President's Honor Roll by achieving a GPA of 3.5 while carrying at least 12 hours. Part-time students are eligible if they have maintained a 3.5 GPA for two consecutive semesters.
Euvia Abdullah, John Abston, Staci Acevedo, Matthew Adair, Chance Adams, Elham Aghillou, Courtney Aguilar, Sunbal Ahmad, Mariam Ahmad, Philomine Atabong.
Juliana Akabua, Casey Akard, Ashley Akers, Ashly Allen, Desiree' Allen, David Amarquaye, Daniel Anderson, Una Anderson, Daniel Andrews.
Nii Annan, Sarah Antari, Randy Antrikin, Nicole Archer, Jessica Armstrong, Kelly Arndt, Jennifer Arnett, Kelly Arpoika, Kathy Aubrey, Rustin Avila.
Saad Ayadi Berrada, Gabriela Baeza, Jon Ballard, Jason Bamba, Bandu Barclay, Jennifer Barefoot, Sara Barrett, Caleb Barrette, Heather Bartling, Kayla Barto, Prognanwita Barua.
Robert Beals, Bryan Beane, Beatriz Becerra, Darla Beck, Megan Beddo, Jessica Beheler, Laura Bell, Max Beloat, Jamie Belusko, Heidi Benge, Robert Benge.
Branton Bentley, Michael Bernard, Kyoko Berry, Marcedes Bigham, Marc Bird, Ellen Birikorang, David Bittle, Trisha Bizier, Amanda Blevins.
Devin Blunck, Jennifer Boatsman, David Bohanan, Jennifer Bohn, Leslie Bollinger, Courtney Bolt, James Booth, Bethany Bourn.
Vincent Boyd, Hannah Bradford, Julianne Bragg, Kevin Brannan, Steven Brannen, Marsha Brannon, Robert Briggs, Mendi Brinlee, Royce Brown, Redman Brown, Kelsie Brown.
Harvey Brown, Chad Bruner, Cheri Bryant, Shaunte Bryant, Ashley Burchett, Eric Burfict, Mark Burgess, Robert Burnett, Xyzjette Burns, Renee Burris, Brittney Butler, Summer Byram.
Barbara Cabral, Emily Cain, Ashley Callahan, Ryan Campbell, Ellen Campbell, Dennis Camper, Bonnie Campo, Michelle Canham, Graciela Cardenas, Melissa Cargal.
Theresa Carlton, Stephanie Carpenter, Megan Carter, Eetoi Casiano, June Castle, Erika Castrillo, Kelsey Cavin, Faryal Chamani, Robert Chandler, James Chandler, Diann Chandler.
Rachel Chapman, Julia Charbonneau, Travis Cherry, Tyler Christian, Christopher Clabo, Grace Clawson, Donovan Clayton, Russell Clevenger, Dana Cline, Brandi Cloninger, Kasey Coats, Braeden Cochran, Sara Coil.
Emily Coker, Raquel Coley, Brianna Collins, Tyler Compton, Brook Connelly, Lori Cooper, Krysten Cooper, Sarah Cooper, Kyla Cooper, Ryan Copeland.
Elizabeth Corbishley, Bax Cornelson, Wesley Cossey, Joanna Couch, Reyna Covarrubias, Ryan Cox, Lane Crawford, Sandra Crofford, Matthew Crofford, Kurt Crooks, Caitlin Cross, Brittany Crothers.
Benjamin Crouch, David Cryer, Kelli Cuadra, Laura Cullen, Joren Cummins, Brantley Cunningham, Catherine Currier, Angela Curtis, Natalie Curtis, Randall Cuthbertson.
Alicia Daggs, Abdul Dalimunte, Katie DallaRosa, Donald Dalrymple, Luis Damazo, Steve Damazo, Greg Davis, Rebekah Davis, Wendy Dawson, Rebecka Day, Teresita De La Cruz.
Sarah DeVore, Nathan Deal, Grant Di Rienzo, Shatora Diamond, Annette Dillingham, Khoi Dinh, Krystal Dinh, Duc Dinh, Nga Dinh, Taylor Dismuke, Kevin Do, Pamela Dobbs, Jeanna Dodd, Harriet Domino.
Christina Douthit, Graham Dowers, Jacob Driscoll, Heather Driscoll, Kathi Drye, Chancy Duncan, Stephanie Duncan, Christopher Dunn, Tony Duong, Melina Duran, Jimmie Dye.
Athena Eggleston, Jeremy Elkins, Christopher Ellis, James Emswiler, Sybil English, Patrisha Erlenbusch, Chad Ernst, Eric Espinoza, Kennedy Essien, Courtney Evans, Christopher Evans.
Modebola Fadare, Corey Fair, Amber Fairbanks, Jeffrey Fannon, Levi Farmer, Colby Farrell, Jared Fatkin, Jeremiah Fichter, Dystani Files, Sabrina Fite, Matthew Fleck, Kaci Ford, Julie Foster, Serena Franco, Heather Franks.
Robert Gardner, Ashley Garrison, Jarmila Gayden, Ryan Gevaza, Wesui Gilmore, Lanora Gist, Cody Glueck, Shea Goble, Brandon Goff, Shannon Gogel, Demitri Golden.
Taylor Goldsby, Norman Gonterman, Floyd Goodson, Elizabeth Gorrell, Krystal Graham, Ronald Grant, Shekita Gray, Allison Green, Nathaniel Green, John Green.
Kyle Gregory, Cody Grim, Milanda Grisham, Steven Grissom, Larry Grizzle, Joshua Grooms.
Jannette Guerrero, Han Guo, Tara Gurung, Adam Gutierrez, Gustavo Guzman.
Vy Ha, Ashley Haggard, Andrew Hall, Samantha Hames, Miles Hamper, Wanda Haney, Cathy Hanna-Harris, Justin Harden, Brittany Hardin, Leah Harper, Jeremy Harris, Jonathan Harris, Kristin Harris.
Quentin Hastings, Casey Haverstick, Amber Hayes, Hillary Hayes, William Heath, Gregory Hefner, Morgan Heitt, Benjamin Helms, Chelsea Henderson, Betsey Henson.
Elsa Hermosillo, Areli Hernandez, Melinda Herring, Ami Hicks, Kari Higgins, Brook Hightower, Patricia Hill, Austin Hilterbran, James Hines, Erica Hinson, Angela Hite.
Randall Hiyane, Patrick Ho, James Hodges, Joshua Hooten, Tammie Hope, Chad Hopkins, Lauren Hopson-Kueny, Ashley Hosek, Brandy Houchin, James Houston.
Amy Howard, Matthew Huddleston, Kyleigh Huffman, Melissa Hulsey, Richard Hulsizer, Courtney Hunnicutt, Derek Hunt, Shea Hunteman, Kristina Hunter, Barbara Hutchison , Christian Hyatt.
Grant Inman, Dawn Irfan, Mabel Iyaye, Brooke Jackson, Timothy Jackson, Robby Jackson, Khurshid Jahan.
Christopher James, Jennifer James, Christopher James, Celeste Jean-Roy, Meghan Jenkins.
Chazten Jenkins, Corin Jensen, Jens-Karl Jentoft, Elisee Jionang Dapeu, Aauntaia Johnson, Keely Johnson, Roxanne Johnson, Mary Johnson.
Michael Johnson, Lisa Johnson, Christa Johnston, Kristen Jones, Ashley Jones, Amanda Jones , Michelle Journey.
Krystyna Kamara, Antony Karanja, Brandon Keck, Gabrielle Keil, Natalie Keller, Leslie Kelly, Nabina Khanal, Andrian Kharisma-Putra, Erin Kidwell, Iris Killough, Robert Kilway.
Kiok Kim, Laura King, Keith Kirby, Stephanie Kirk, Daniel Koehler, Kip Koonce, Michelle Korenblit, Anna Kruskopp, Michael Kruta, Shelby Kutej, Deborah Kwei.
Christopher La Ponsie, Geoff Lacy, Jamie Laleff, Anh Lam, Sarah Landers, Hannah Lark, Jessica Lassiter, Richard Lawson, Katie Le, Donny Le, Tho Le, Hoang Le, Ngan Le.
Teionna Leach, Patricia Lecona de Wright, Michelle Lee, Summer Lewis, Tamaira Lewis, Sydnie Lindsay, Shawn Lindsay, Brittney Linster, Ariel Lippincott.
Brenna Littou, Jarad Logsdon, Ryan Long, Dylan Looper, Yovana Lopez, David Low, Megan Lowber, Brooke Lucas, Mario Luna, Ninh Ly, Erica Lynn, Casie Lynn.
Gilles Nelly Mabicka, Jose Macias, Jose Maestre, Sabeena Maharjan, Veronica Maldonado, Kassidy Malone, Syed Abdullah Mannan, Jason Mansour, Darren Markwardt.
Amber Marshall, Chris Martin, Christopher Martin, Kristy Martin, Donna Martin, Fabiola Martinez, Naomi Martinez, Juana Martinez, Summer Marty, Bonnie Mason.
John Massengale, Kevin Masters, Emily Matthews, Emily Mayes, Robin McArthur, Sonya McCraw, David McDade, Tina McDaniel, Thomas McDonald, Andrew McDonald.
Kandise McDonald, Kathleen McElvany, Michael McGinley, Andreae McGinnis, Tyler McKee, Ashley McKinney, Caitlin McLaughlin, Crystal McLaughlin, Michael McMillian.
Kayla Mee, Parker Melendez, Caryn Mellendorf, Chris Melton, Shelby Menser, David Mercer, Mohammad Miah, Scott Michael, Megan Michaud, Daniel Milhan.
Kimber Miller, Jessica Miller, Amanda Mills, Nasar Min Allah, Taylor Mitchell, Tanner Mollman, John Monis, Leanna Montgomery, Jennifer Moody.
Cori Moore, Lonathan Morgan, Jason Morgan, Tina Morris, Christopher Morris, David Mortensen, Jason Morton, Kimberly Morton, Courtney Mosier.
Chase Moxley, Margot Mueller-Reid, Paul Mungiria, Mary Murnan, Christopher Murphy, Asaba Murray, Callie Murray, Mikala Mutchler.
Naveen Nair, Shannon Neal, James Neill, Mary Newcome-Hatch, Martin Nguyen, Thi Nguyen, Tri Nguyen, Kim Ngan Nguyen.
Leslie Nguyen, Thai Nguyen, Lisa Nguyen, Dat Nguyen, Jay Nguyen, Liem Nguyen, Trang Nguyen, Quynh Nguyen, Phu Nguyen-Le, Meagen Nichols.
Tessa Nichols, Jane Nickolls, Amber Nix, Ateh Nkegoa, Bosungmeh Nkende, Ida Nkwinkwa-Tchoume, Saad Nmili, Ericka Noah, Jody Norris.
Deborah O'Dell, Kristyl O'Neal-Nelms, Erica Ochoa, Olushina Ogunduyile, Beatrice Ogunremi, Tina Ohler, Santosh Ojha, Temitope Oladipo, Aja Orcutt, Jaime Ortiz, Nicholas Owen.
Yara Pacheco, Alberto Padilla, Tyler Page, Isis Palomino, Pedro Palomo, Celina Pang, Prakash Parajuli, Merritt Parham, Lauren Parker, Steven Patchin, Anand Patel.
Kory Patterson, Sarah Patton, Erin Peden, David Pemberton, Lauren Penner, Christina Perkins, Amber Perkins, Susan Perry, Eric Pham.
John Phelps, Joshina Philipose, Colby Phillips, Joshua Phillips, Jacob Pickle, Carla Pierce, Tricia Pierce, Sarah Pinc, Amiee Pinkerton, Megan Plank.
Charles Plunkett, Kelli Potts, Kristina Potts, Monique Pouliot, Gaurav Pradhan, Sandi Price, Alexandra Protopopova, James Pruiett, Suraj Pudasaini, Jessica Pursell.
Lyubov Quillet, Jessica Rader, Devin Ramirez, Orlando Ramirez, Tammy Ramsel, David Ramsey, Amali Randombage, Rojina Ranjit, Michael Rankin, Michael Ratcliff, Birat Raut, Brianna Record.
Jason Rector, Kaitlin Redman, Dawn Reed, Brianna Reed, Shannon Repka, Leovaldo Reyes-Ariza, Robert Richardson, Megan Richardson, Teena Richardson, Chasen Riehl.
Sarah Riley, Anisha Rimal, Stacey Rios, Enrique Rivera, Diana Rivera, Joshua Rivers, Kelly Roberts, Rachel Roberts, Shannon Roberts, Tammy Robertson, Rhonda Rock.
Dustin Rodgers, Marisa Rodriguez, Shawna Roggow, Joel Rollerson, Guillermo Romero, Lisette Roosa, Tina Rose, Ryan Rose, Jamie Rother, Chelsea Rouse, Maria Ruffin, Robyn Rush, Kymdria Russo, Tyrell Rutledge, Tara Ryan.
Maria Salas, Stephanie Sales, Kenya Samuels, Francisco Sanchez, Nicholas Sanford, Laquana Sango, Adrian Santos, Racheal Schatz, Rachael Schlittler, Megan Schoneberg.
Joseph Schwab, Jared Scott, Fatina Scott, Joseph Scott, Staci Seilkopf, Bryan Sekine, Damon Seymour, Walter Shannon, Alexandrea Shannon, Shannon Shepherd.
Catherine Shepherd, Jason Sherman, Jessica Shinabery, Heather Short, Caleb Shultz, Amy Shultz, Steven Silver, Tia Simons, Melinda Smith, Phillip Smith, Kara Smith.
Austin Smith, Katie Smith, Talisha Sneed, Jill Sodowsky, Anatolii Soloshonok, Jiapeng Song, In Sun Song, Manila Souriyathay, Michael Southerland, Valerie Sowder.
Matthew Spack, Derrick Spears, Felicia Spencer, Janet Spitler, Peter Steinle, Kiah Stephens, Shellie Sterling, Kelly Stevens, Karen Stevenson.
Jennifer Stewart, Meagan Stewart, Bono Stewart, Darrell Stone, Brenden Stovall, Virginia Stramski, Sarah Stuart, Matthew Sullivan, Tyler Swetland, Curtis Swift, William Synnott.
Patricia Tandra, Patric Tandra, Michelle Tarkington, Natisha Tarver, Alisha Tasetano, Lisa Taylor, Kimberly Taylor, Elsa Tchouambou, Chalermphol Thiensingchai.
Victoria Thomas, Phillip Thomson, Tasha Throckmorton, Barry Timberlake, Emily Tomberlin, Barbara Tomes, Sarah Tomes, Christina Tomlin, Laura Torres.
Marisol Torres, Jacob Touchstone, Katy Trammell, Dao Tran, Linda Treadway, Deborah Treschitta, Jessica Trillo, Ngan Trinh.
Adam Troutt, Kaitlyn Truong, Franklin Truong, Tuong Truong, Prince Tsagli, Lauren Tubbs.
Michael Uhland, Jonathon Ussery, Erika Valdez, Nicholas Valentino, Victoria Ventura, Kari Vess.
Karla Villalobos, Barbara Violette, Kathy Vo, Minh Vo, Teresa Vu, Thuy Vu, Raymond Vu, Minh Vu.
Raven Wahkinney, Stephen Wake, Caley Wakely, Nicole Walker, Holly Walker, Bryan Walker, Kimberly Walls, Allison Walls.
Dyrian Wandick, Yinan Wang, Brenda Warren, Paige Warren, Alisha Watkins, Kenny Watson, Jade Webb, Shelby Webb, Haley Webb, April Welch, John West.
Shannon West, Chad White, Jared White, John White, Anngela Whittington, Bryan Willett, Deborah Williams, Krystle Williams, Steven Williams, Trent Williams.
Whitney Willis, Brent Wilson, Alissa Wilson, Sandra Wineberry, Ashley Womack, Sundi Wood, Joshua Woodard, Darcie Woodson.
Misty Wornick, Christine Worsham, Donald Worth, Vanessa Wright, Annie Wright , Aykamar Wushur.
Yu Jeong Yang, Kristen Yeary, Brittny Young, Meghan Young, Kyle Yount, Ili Yuan, Sheila Zawisza.