Improv studio offers summer classes starting June 18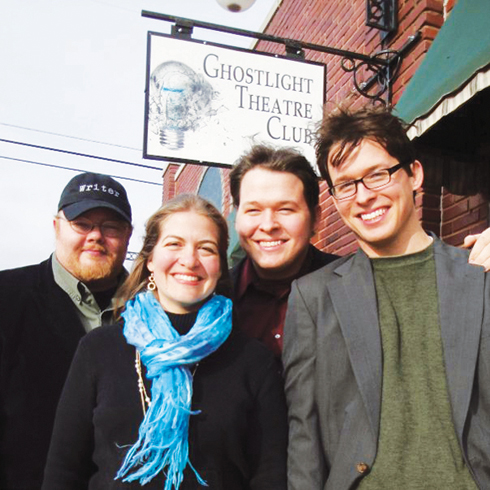 Photo courtesy www.okcimprov.com
OKC Improv Co-Producers Eric Webb, Marcy Fleming, Buck Vrazel and Clint Vrazel.
Calling all performers.
OKC Improv will hold improvisational classes starting June 18 for adults interested in expanding their theatrical and improvisational talents.
Producers and brothers Buck and Clint Vrazel will teach a level one class at 2 p.m. and a level two class at 4 p.m. every Saturday June 18 through July 23, according to the company website www.okcimprov.com.
OKC Improv is a non-profit community arts organization based out of the Ghostlight Theatre Club at 3110 N. Walker in Oklahoma City.
The organization hosted its first show 10 years ago and is devoted to building a thriving and sustainable improv scene by providing regular performance opportunities, the site said.
"The great thing about improv is that it appeals to a lot of different kinds of people," said Eric Webb, OKC Improv co-producer. "There are people who come take classes who just want to build confidence."
According to the website, the level one class is geared toward beginners, lapsed improvisers, actors and comedians looking to try something new.
It will cover the basics of storytelling, stagecraft, character work, mime, improv structures, and group mind.
The level two class is aimed at experienced improvisers looking to refine their skills.
It will cover the further improv fundamentals, advanced character and scene work, and strategies for excelling in different kinds of improv.
A higher-level class also exists, but has a prerequisite.
"The level three class is for those who got through the first two classes and need more advance training," Webb said.
A former level one student posted positive reviews online.
"Buck and Clint are supportive of every effort you do," the student said. "They are talented, great teachers, fun and enthusiastic. Be prepared for intense learning. It is a good way to get out of your comfort zone."
Webb said students are welcome to form troupes during the current run and practice performing their newly learned skills. Drop-ins also are always welcome in the level 1 class, he said.
"The classes are designed for people to come in and get something out of it and if you want to continue on, there are avenues for you to do so," Webb said.
The first class is free. There is a $10 fee for each additional class.
OKC Improv also will start a five-week run of shows at 8 and 10 p.m. every Saturday starting June 18. Tickets are $10 each and $5 for improvisers and improv students.
Throughout the run there will be 26 diverse Oklahoma acts and two returning acts from Texas.
"The classes are super affordable and fun," Webb said.
"Since it is an improv class, there is even some improv in the teaching. No one class will ever be retaught in the exact same way."
If you are interested in enrolling, visit www.okcimprov.com or call 405-343-1570.