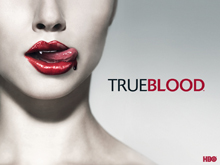 As media proliferates — spawning not only new channels, radios stations, and publications, but new ways of producing shows and audio broadcasts, and text media — it seems strange that the more we have to consume, the less quality consumables there are.
Which is why HBO's "TruBlood" is such a wonderful treat.
The show, an adaptation of Charlaine Harris' Sookie Stackhouse series, kicked off back in 2008 with an explosive force that rocked the world. Overnight, TruBlood became an phenomenon.
But it's the staying power, and the ongoing creativity, that make this show so great. Five seasons in, and it's still getting better.
At its center, the show revolves around Sookie Stackhouse (Anna Paquin) Bill Compton (Stephen Moyer) and Eric Northman (Alexander Skarsgard).
Sookie is a waitress from Bon Temps, La., with the "gift" of telepathy. Unfortunately for Sookie, it's not the mind control version gifted to Charles Xavier, or Emma Frost; it's more of the "everyone screaming in my head all the time" version. Bill and Eric are vampires, and rivals for Sookie's affections.
But it's the universe Sookie inhabits that makes her interesting.
In the first episode, vampires have just recently "come out of the coffin" in response to the development of a blood substitute, and all the world is going crazy…and all the other things that hide in the night want to come out and play too.
Characters have come and gone — and in the tradition of great gothic soap operas, come again, even if they're dead — and new characters have been added.
The original core cast is surprisingly intact for a show with an astounding amount of violence in its fifth season. But the expanding cast, the new characters, keep bringing more to the table.
The trials and travails of the characters as they blaze through relationships, alliances, and feuds have made the show incredible for four years now.
And season five just blew the doors off, changing everything without losing touch with previous seasons.
So for anyone that's given the show a pass based on those first few episodes (y'all know the ones — where Paquin developed the 'simper and whimper' to an art form) go back and pick it up again.
Sookie loses her whimper, Bill outgrows that angsty exterior and Eric…gets more awesome. Cause he was always awesome.
But be warned, everything that's said about how racy the show is? That's all true. There's nudity, sex, violence, drug use, alcohol abuse…these are not your kids sparkling angst machines. These are vampires.
Rating: A
—Jeremy Cloud
Staff Writer
To contact Jeremy Cloud, email editor@occc.edu.