TRiO program serves up success for students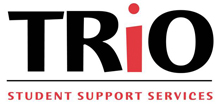 Graduate, transfer, succeed. That is the goal of TRiO Student Support Services at OCCC. Funded by the U.S. Department of Education, TRiO serves 160 students at OCCC annually for a five year grant cycle.
TRiO Grant Programs Director Karolyn Chowning said the program is a great way to assist students in their aim to graduate and transfer from OCCC.
"The idea is we're an educational opportunity program," Chowning said. "It's basically a year-round program of counseling, tutoring, and supportive services."
To qualify, students must meet one of the three requirements: have a low income (qualifying for Pell grants), be a first-generation college student, or have a documented disability. Chowning says over half of students at OCCC qualify but may not realize it.
"Because about 10,000 students qualify for our services, we have a selective process," Chowning said. "The most qualified applicants would have already completed six college hours with a 2.0 or better that bear a credit."
Some of the benefits of being in the program include tutoring in almost any subject, help with course selection, finding scholarships, transferring, and much more.
All of these benefits come free to students accepted into the program.
Student Jennifer Smith said she is interested in applying for the program.
"Since I am undecided about what I want to do, I think it would be beneficial to take advantage of all the resources TRiO offers," Smith said. "I will definitely consider applying."
In addition to being part of the program, students must have a learning support meeting every semester with an academic specialist.
"A big focus of our program is to get students thinking where they're going to transfer to get their bachelor's degree," Chowning said. "Lots of times students don't think about that until their last semester and it turns out if they would have made a different choice for a requirement, it would do double duty at another college."
In addition, TRiO takes transfer trips, does community service projects, hosts workshops and guest speakers, and provides information to help students with seeking financial aid and filling out applications.
Chowning says a main benefit of being in the program is the attention students receive.
"I think the number one thing you get from us that you can't get anywhere else is that free one on one tutoring where it's just you, a scheduled appointment, and people aren't floating around," Chowning said.
While applications are taken accepted year-round, students wishing to be in the program for Fall 2012 should apply before the end of the summer semester. If you aren't accepted into the program the first time, keep trying.
"Don't be discouraged." Chowning said. "Apply again every semester until you are in," she said. "We want you to be successful and we're here to help students graduate and transfer. Stop by anytime and ask questions. We are a friendly place."
For more information or to find an application for the program, visit www.occc.edu/trio or stop by the TRiO office located next to the Bursar. Chowning encourages students to visit anytime.
To contact Erin Peden, email staffwriter1@occc.edu.