Theatrical dance class coming to OCCC campus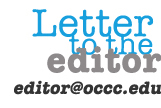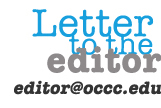 To the editor:
Theatrical Dance is coming to the OCCC campus through a three-pronged curriculum offering dance technique classes, a student performing company and a general education humanities course, Understanding Dance.
The dance technique class initiates the plan beginning spring semester. Theatrical Dance technique classes will be offered from 3 to 4:20 p.m. Monday and Wednesday, through the Recreation and Fitness Department. Utilizing elements of jazz, ballet and modern dance, the class will offer options to accommodate beginning through advanced dancers.
Tights and leotards or stretchy, close-fitting attire is required, as well as ballet or jazz shoes, dance paws, or dance sneakers.
Athletic shoes are not allowed due to the risk of knee injuries during spinning turns. Bare feet are also allowed, but not suggested.
Designed to burn fat and increase core strength, coordination and flexibility, the class will be included in the department's unlimited class package. However, class size is limited.
The dance technique class will be required for students selected for the performing company.
The troupe will perform initially for a dansical project utilizing elements of not only concert dance, but also historical social dance.
The dance company will be formed in March. More information will be forthcoming.
Understanding Dance will be offered for general education humanities credit beginning in the Fall 2012 semester.
The course is designed to give students an understanding and appreciation of dance as theatre art.
Learning objectives include understanding the role and importance of dance in culture and society, the historical development of dance as theatre art, aspects of various theatrical dance styles, and the art of making dances.
For more information, contact Recreation and Fitness at 405-682-7860.