Texas Tenors take stage Oct. 1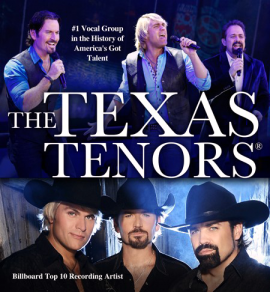 When the Texas Tenors trio come to OCCC's Visual Performing Arts Center on Thursday, Oct. 1, students can get a free seat to the show at the VPAC Box Office.
Performing Arts Series Coordinator Linda Bosteels said all other patrons will pay regular ticket prices of $36, $45 and $55.
The trio is famous across the U.S. for their appearance five years ago on "America's Got Talent," where they placed fourth overall, Bosteels said.
"They all have different musical backgrounds," she said. "One does opera, another does country and another is pop."
Country singer JC Fischer formed the band with pop singer Marcus Collins and opera singer John Hagen, according to the group's official site thetexastenors.com.
Bosteels said the trio spends a lot of time performing in Branson, Missouri, and has won Critics Choice awards for best show in 2012 and 2013. The group is originally from Texas, she said.
The trio solidified its spot among popular acts with a Billboard top 10 album "You Should Dream" in 2013 and currently has a special airing on PBS.
The performance is the first of the semester for the Performing Arts Series, Bosteels said. She said it's one of the best lineups OCCC has ever had.
"There's really something for everyone this semester," she said.
"They're all slightly different. A lot of students are looking forward to Kid Koala."
For more information about ticket prices, call the Theater Box Office at 405-682-7579 or visit tickets.occc.edu/vpac.
For more information about the Performing Arts Series, contact Bosteels at 405-682-1611, ext. 7740.