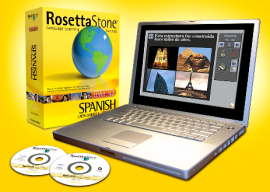 OCCC students are able to learn international languages through Rosetta Stone, a free computer program available in the World Languages and Cultures Center, said Center Coordinator Chiaki Troutman.
Arabic, Chinese, French, German, Hebrew, Italian, Japanese, Portuguese, Russian, and Spanish are among the languages offered through the interactive program.
Troutman said that will change soon when an update to a newer version is completed.
"The new version of Rosetta Stone will have all languages in the market, over 50 languages," she said. "Also, the sign-up process will become easier for students."
She said the update is long overdue.
"… Right now, we [have] only 11 languages, and many students … ask about languages we do not currently have like Vietnamese, Korean or Latin," she said.
"The … current version is getting old and needs to be updated … ."
Troutman said the number of students who visit the WLCC to use the Rosetta Stone program increases each semester. She said that also weighed into the decision.
"[Two weeks into the] fall semester, more than 30 students had already enrolled for Rosetta Stone," she said.
Troutman said she wanted to upgrade the program years ago but could not because of budget limitations.
Even after the upgrade, students will still be required to be in the WLCC to use Rosetta Stone program. Troutman said that is because the college has an on-site license
She said the new version of Rosetta Stone program will be available by the end of this semester.
Evelin Lorenzana, education major, said Rosetta Stone could help people have more opportunities in life.
" … When you know more than one language, you can have better job and interaction with people," Lorenzana said." … And more money too."
Nursing student Kalkedan Araso said she plans to use Rosetta Stone to learn at least the basic of her favorite languages, Spanish and Italian.
"The good thing about [Rosetta Stone] is it's free and brings students many advantages," she said.
"For example, if you join the military, they will pay you … extra [money monthly] for other languages you know."
For more information about Rosetta Stone, email Troutman at ctroutman@occc.edu or call 405-682-1611, ext. 7104.