Technology creates big sound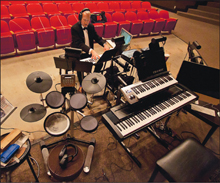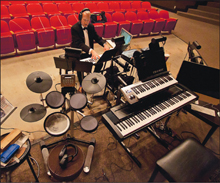 Chris James/Pioneer
Music Professor Michael Boyle warms up the keys before a performance of "A Funny Thing Happened on the Way to the Forum" last month in the Bruce Owen Theater. The music department is using some of its new technology, like the electronic drum kit shown, to create an orchestra for the musical.
"With only four musicians we could simulate an orchestra," said Professor Michael Boyle, music director for "A Funny Thing Happened on the Way to the Forum."
The musical comedy produced on campus in April allowed musicians to generate a big sound with a few instruments—plus the magic of modern technology.
For the first time ever at OCCC, with the use of a few iPads, Macintosh computers, and digital instruments, the music produced for the performances could be simulated without having a traditional full ensemble in the orchestra pit, which usually consists of about 20 members.
"What that means is there are three musicians in the pit band that are playing digital instruments," Boyle said.
These included keyboard, bass guitar, drums, and other sounds, he said.
"In addition to the musicians and the computers in the pit, we've got three separate mixers. Mixer number one handles the microphones that amplify the stage.
"Mixer number two amplifies the band Mixer number three amplifies the headphones that all the musicians are wearing," Boyle said.
There are two sets of speakers on stage so the actors can hear everything and then there are the main speakers, so the audience can hear everything.
"It's really weird to watch the band because if you were standing there without headphones on, you wouldn't hear a thing," Boyle said.
Musicians Zach Lebo, Elad Katz, and Nikola Gjorcezski accompanied Boyle in the pit while he conducted the entire show.
"I think it's critical for our students to experience a show in the same fashion as the pros are doing it," Boyle said.
"And that's one thing OCCC has always been really good at — being abreast of all the current technology."
Boyle said they used an iMac computer, a Macbook Pro laptop, an off-the-shelf Macbook laptop, and the Roland Digital V Drums, which are electronic drums that are quiet to the ear without the headphones or speakers that transmit the sound.
"It's fascinating to do a show like this," Boyle said.
Boyle has 30 years of experience in electronic music.
"This is fun," Boyle said.
"This is what I love to do. I'm a computer geek."
Boyle said funding for this new technology came through a variety of sources. Some came from the OCCC music budget, along with some extra funds from Academic Affairs.
Finally some of the technology was personal equipment provided by the musicians themselves.
For more information about the music department, contact Michael Boyle by email at mboyle@occc.edu or by phone 405-682-7558, ext. 7245.
To contact Paris Burris, email onlineeditor@occc.edu.