Swadley's BBQ best in metro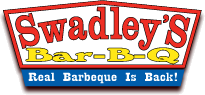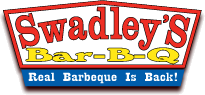 Finding a decent barbecue restaurant in Oklahoma City is not hard but finding a great barbecue restaurant in Oklahoma City is another story. Swadley's BBQ, located at 824 SW 89th Street, is the place to go to satisfy your need for great barbeque.
Swadley's has a very welcoming and friendly atmosphere, quick service and quality food.
They also have an exceptional drive-through that is extremely speedy considering the freshness of the food. My family goes to Swadley's quite often and we are always impressed with the experience.
Swadley's has all of the standard barbecue joint items like pulled pork, brisket, sausage, smoked chicken, turkey and hot links.
They offer five different meat sandwiches, which come with at least one side and a drink ranging in price from $8.99 to $10.29.
They also have country dinners, which includes two sides and bread, ranging in price from $8.99 to $13.99.
Swadley's also has the best baked potatoes. The ginormous spuds are $4.99 plain and $7.99 loaded. Although these prices sound expensive, the portions are huge, so you definitely get your money's worth. Ice cream is free if you purchase a meal.
They also have great sides to choose from including fresh cut fries, campfire taters, fried okra, sweet beans, spicy beans, sweet cream corn, smoked corn cobbette, green beans, macaroni and cheese, coleslaw, potato salad, and mashed potatoes and gravy.
I always get the turkey sandwich with fresh cut fries. Their turkey has an amazing flavor and texture, and their fries are some of the best in the metro.
The thing that sets Swadley's apart the most, in my opinion, is their barbecue sauce. They have the freshest sauce I have ever tasted. They don't keep it in squirt bottles like some places. They keep it in crockpots and spoon it out fresh every time.
I strongly recommend you stop at one of their five restaurants and learn that "Real Barbeque is Back!" Find a location near you at http://swadleys.com.
Rating: A