Spring sports and group fitness classes scheduled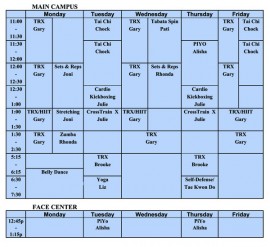 Oklahoma City Community College continues to offer fitness classes and plans for intramural sports are underway in the new semester, Wellness Center Manager Brooke Dresel said.
"Students can find the official fitness class schedule on the OCCC Recreation and Fitness Facebook page," she said.
At the Family And Community Education Center, only PIYO will be offered.
Students will not need to sign up or enroll.
Individuals who wish to use the gym or particiapate in group fitness classes need only their student ID and appropriate attire, Dresel said.
Intramural sports will also be back, said sports assistant Matthew Wright. The intramural season begins with a ping pong tournament at 4 p.m. on Jan. 25. Tournaments will recur on the last Wednesday of each month through April. Wright said participation is limited to the first 12 students to sign up each month.
Six weeks of five on five indoor soccer are scheduled for 2 p.m. to 5 p.m.  on Fridays beginning Jan. 27.
And basketball will be played from 5:30 p.m. to 9 p.m. on Tuesdays March 28 through May 2.
Students who wish to sign up for an intramural sport can sign up in the gym or at the Recreation and Fitness office.
For more information and updates, follow OCCC Rec and Fitness on Facebook.
Or email Sports Assistant Matthew Wright at Matthew.J.Wright@occc.edu.