Safety is key to battling heat wave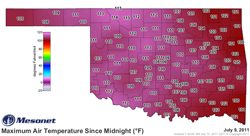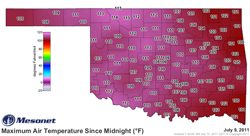 With extremely hot temperatures taking place across the state, exercising safety and prevention is even more important in order to keep these scalding days free of accidents and heat-related health issues, said OCCC Nursing professor Sarah Brown.
Brown said it is important that people exercise caution and take steps to limit sun exposure and to properly hydrate themselves when seeking respite from the heat.
"It is key for people out in this hot weather to wear hats for shade, drink large amounts of water, and stay away from sweet drinks," Brown said.
"Common effects of prolonged heat exposure are heat stroke, nausea, headache, dehydration and hyperthermia."
Not surprisingly, swimming is often the go-to means of diminishing the effects felt by heat exposure for many families, but OCCC Senior Lifeguard Tracy Lister said there are inherent dangers that must be proactively addressed by parents and children before heading to the pool.
"The importance of teaching children about life jackets and universal pool rules can be a real lifesaver," Lister said.
These rules include not running, not diving into shallow water and never swimming alone, Lister said.
He said it's crucial that parents always know where their children are and to accompany them into the water if they are not proficient swimmers.
"Parents need to check out whatever pool their kids go to," he said. "If the child needs a lifejacket in the water, always get into the water with them."
Scrapes, bruises and chipped teeth are all potential injuries that may occur poolside, ºhe said, but the most frequent is sometimes the most preventable: sunburns.
"This is the most common by far," Lister said. "We all hear about sun safety but are really bad about practicing it. Applying sunscreen 30 minutes before getting into the water can prevent sunburns.
"My advice is to put it on before you leave for your pool. If you get into the water and your skin feels slimy, that means the sunscreen is coming off."
Brown cites an increase in free time as another reason for the increase in injuries that occur during the summertime.
She said parents always being aware of where their children are and what they are doing can prevent a large percentage of injuries from occurring.
"We see a lot of broken bones during the summer months — especially in children," she said. "Parents watching their children is essential but unfortunately this is going to happen at a higher rate during the summer months."
For more on summer safety, visit www.aap.org/advocacy/releases/summertips.cfm.