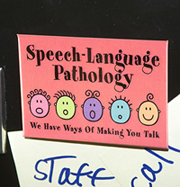 Oklahoma's only Speech-Language Pathology Assistant program has now enrolled its first class of 25 students at OCCC. The program blends on-site clinical experience with predominantly online coursework.
One of the individuals instrumental in developing the program at OCCC, in partnership with the Oklahoma Speech and Hearing Association, is new Speech-Language Pathology Program Director Kathy J. Wheat, who began her tenure on campus in June.
Wheat has 18 years of experience working in the field of speech-language pathology services.
Wheat said right now there are severe and persistent shortages of speech pathologist assistants in the state and the nation.
"There are students and patients that need services and there are a limited number of providers," she said. "So job opportunities are abundant."
Wheat said speech-language pathology assistants work under the supervision and licensure of a speech-language pathologist. Together they work to treat adults and children with communicative impairment.
"The field is broad, with lots of opportunities," she said. Speech-language pathology assistants might work with a patient who has had a stroke, might work with a patient who has had swallowing difficulties or issues, might work with students in public schools who have had difficulties listening, speaking, reading or writing.
Wheat said students in the program are participating in three speech language pathology assistant courses this fall, targeting their degree program.
"There are 61 credits with 18 of general education courses and 42 in speech-language content work. Of that, they will have two semesters where they will complete a clinical experience," Wheat said.
"The program is all online, except for two semesters of clinical experience."
This entails 50 hours of clinical experience with a speech-language pathologist either in a public school or a healthcare setting.
Wheat has her bachelor's degree from the University of Sciences and Arts of Oklahoma, her master's degree from the University of Oklahoma's Health Sciences Center and her doctorate from OU.
Associate Vice President for Academic Affairs Greg Gardner said the Speech-Language Pathology Assistant Program was developed at the request of the Oklahoma Speech-Language Hearing Association after OCCC had been looking to develop the program for several years.
"The Oklahoma Speech-Language Hearing Association came to us with a need in this state for speech pathology assistants," Gardner said.
Gardner said the clinical component OCCC provides is set up wherever the students are located across the state.
"If you look at all of our healthcare programs," Gardner said.
"All of them have a practical experience in that clinical setting. It's just really important in creating a well-rounded person who knows what they are doing in a work environment.
"Nursing, Occupational Therapy Assistant, Physical Therapy Assistant, and now SLPA have that clinical experience."
According to potential employers in healthcare, anticipated salaries in SLPA vary greatly. Reports indicate salaries ranging upward from $25 per hour.
Commensurate with degree level, those who work in public schools can expect salaries in line with teacher pay and benefits.
Gardner said he has potential employers contacting OCCC to ask when graduates are going to be ready.
"If we could graduate 25 students tomorrow, we could put them all to work."
Wheat said in education settings, an SLPA can be a teacher of record, they are considered certified staff.
"SLPAs are not considered support staff like Occupational Therapy Assistant or Physical Therapist. They qualify for teacher retirement, insurance benefits, and certified teacher's pay."
Wheat said her passion is teaching and teaching others to do what speech pathologists do.
"If we do that we can impact the communications needs for students and patients across the state of Oklahoma," Wheat said. "It's a phenomenal opportunity to impact someone's life."
Whether the client is a student or an adult, the speech therapist starts opening a world for them or re-opens a world for them, Wheat said.
Wheat said in the spring, OCCC will be looking for 25 to 30 new candidates to the program. "We're targeting a possible June 1 date for those applications."
For more information, contact Wheat at 405-682-1611, ext. 7395, or e-mail kathy.j.wheat@email.occc.edu.
To contact Joey Stipek, email onlineeditor@occc.edu.