OCCC site set for redesign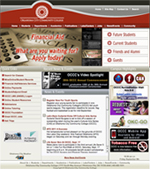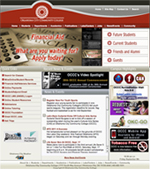 The digital presence of OCCC is getting a complete makeover, said John Richardson, online marketing coordinator.
The college's new website design has a tentative launch date of Nov. 15, and is intended to streamline the current site, making it more navigable to incoming students and current students, as well as faculty and staff.
Richardson said although the site was updated roughly seven years ago, the update didn't change any of the basic design or structural elements.
"When we built the site, it was one page, and we didn't expect to ever do anything with it," Richardson said.
But that's all changed, as the Internet has become one of the foremost portals for information. And as the website has grown in size, its increasing complexity has made it more difficult to use, Richardson said.
Behrang Allahyar, OCCC student, said he likes the current design, but acknowledges that it does have problems.
"It seems like it's all crunched, and it's not as simple as it could be. (And) I would think a better, more welcoming interface would be good," Allahyar said.
Richardson said obtaining a "better, more welcoming interface" is one of the major reasons behind the redesign.
But the team behind the redesign hasn't stopped at just updating the interface.
In order to update the technology, and solve multiple issues at once, the team decided to build the new website from the ground up.
"I think it would be fairly easy to use the new designed site," said Jessica Hughes, occupational therapy assistant major.
Hughes said while she's never had an issue with the site, she's looking forward to the new one.
Among the issues addressed by the new site is the increasing need for web content to be mobile friendly, Richardson said.
"Every day, you see more and more people using their phones or tablets instead of desktops, or Macs. We need the site to reflect those changes."
The new site will have a fresh look, making it a clean break from the old.
"We want that visual cue," Richardson said.
"We don't want people who've used the old site to come in, see what looks like the same site, and not realize that there have been changes."
For that reason, Richardson has been working closely with design consultants from Noel-Levitz Higher Education Consulting.
For a look at the new design, visit www.occc.edu/redev.
To contact Jeremy Cloud, email editor@occc.edu. To email Sarah Hussain, email staffwriter3@occc.edu.