Professors chosen for teaching excellence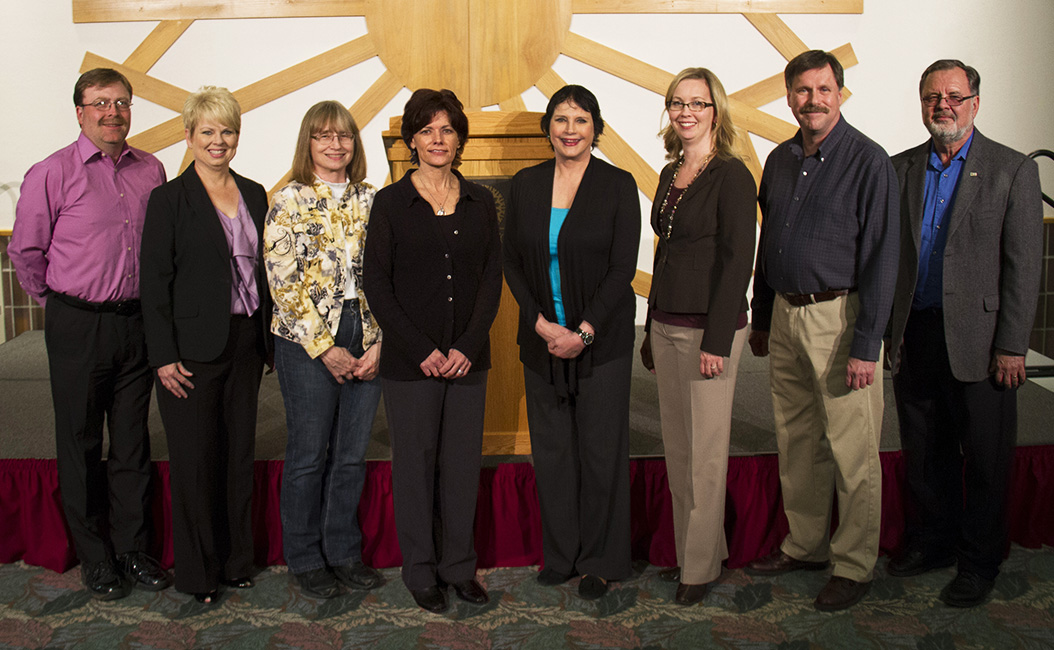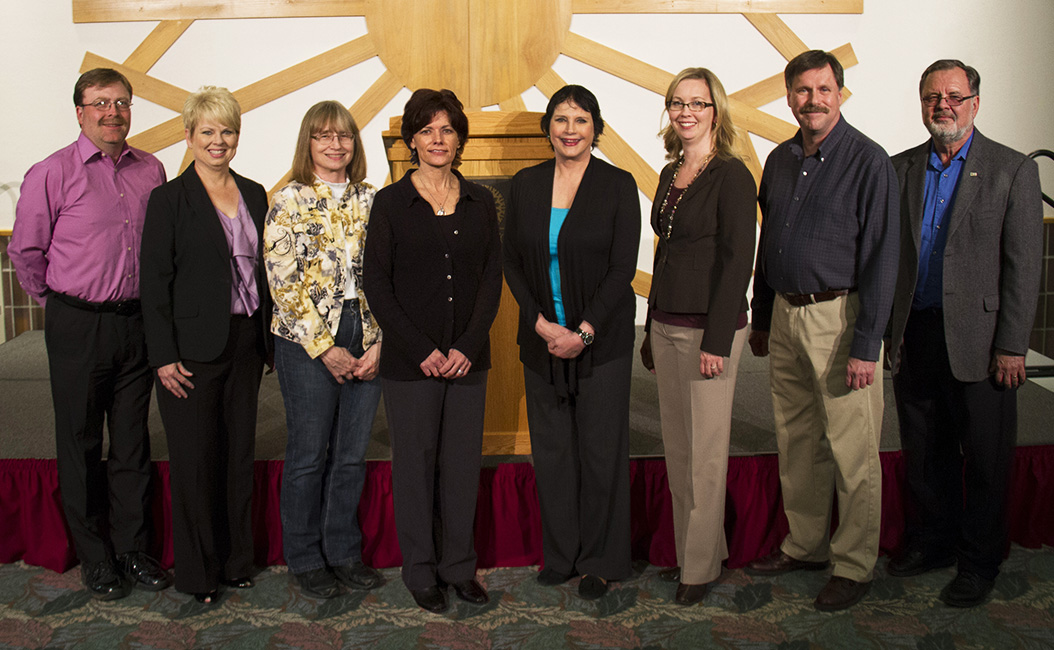 Eight OCCC professors are recipients of the 2014 Excellence Award for the National Institute for Staff and Organizational Development. NISOD recognizes excellent professors, faculty, administrators and staff members.
The Institute was created in 1978 and includes community colleges and technical colleges all over the United States and Canada.
This year's OCCC honorees are Graphic Communications professor Randy Anderson, English professor Angela Cotner, Cyber Security Professor Al Heitkamper, Administrative Office Technology Professor Jenean Jones, Human Patient Simulator and Nursing Lab Coordinator Katherine Milam, Mathematics professor Christopher Oehrlein, Sociology department chair and professor J. M'Lou Smith and Chemistry Professor Kristy Bailey.
According to the NISOD website, colleges who are members of NISOD pledge to uphold high standards, which include: enriching student's learning experience, enhancing the standards of excellence throughout the academic community, and celebrating, recognizing, and rewarding educators.
Recommendations are confirmed by the president of each individual college. After the confirmation, recipients will receive a confirmation email, congratulatory letter and certificate.
The Winners
Anderson was an adjunct professor at OCCC for 13 years before becoming a full-time staff member.
"I've been a full-time faculty member for almost eight years … ," he said.
Anderson teaches photography and applied graphics classes in the Arts division.
He said he is pleased to receive the NISOD Excellence Award.
"I like helping people," he said. "I like to help them make their goals. I like to see them succeed.
We're a starting point in a lot of people's lives, and I like to help them get started."
Cotner won the award in the English and Humanities Division.
"I started working at Oklahoma City Community College in the fall of 2003," she said.
Cotner became a full-time employee in 2010. She has taught English Composition I and II, philosophy, ethics and many other classes.
"I'm kind of shocked because I haven't been working here full-time very long," she said. "It sounds cliché, but I'm really humbled by it because I work with some really great people."
Cotner said her favorite part of being a professor is knowing students truly enjoy her class.
" …When students walk out the door and continue to talk about the subject … anything that reminds me that my students are learning and aren't bored to death are good days."
Heitkamper was the winner in the Information Technology division. He has been at OCCC for 15 years.
In 2004, he said, he began running the cyber security program.
Although Heitkamper has won before, he is still happy to be a recipient.
"I think it's great," he said. "I have won it in the past. I feel like it's great to be recognized."
Heitkamper said his favorite part of being a professor is helping students and seeing them graduate.
"… I've seen a lot of students who came through who have had to struggle. Because I've taken the time to give them individual attention and just kind of encourage them, they've been able to be successful."
Jones won the NISOD award in the Business Division. As a professor at OCCC for more than 35 years, she has taught classes such as PowerPoint, office management, word processing and business communication. Jones said she feels honored to receive the award.
"It makes me feel humble," she said. "To me, there's all kinds of deserving people that could receive it. The college is made up of excellent professors so it makes me feel humble but appreciative," she said.
Jones said her favorite moment as a professor is when a student thanked her for giving her the motivation to graduate.
Milam was given the award in the Health Professions Division. Milam, a nursing professor at OCCC for three years, said she feels honored to have received the NISOD award.
"It's kind of a little overwhelming," she said. "I never expected it, so it's nice."
Milam's favorite thing about being a professor is getting to see her students achieve their dreams. "My favorite thing … is going into the hospitals and seeing former students — seeing my former students being nurses. Also, I've had the opportunity to even work with some former students … .
"I think that's my greatest sense of pride is helping someone achieve their dream."
Oehrlein was the recipient in the Mathematics, Engineering and Physical Science division. He started at OCCC in 1997. He teaches many math-based courses including statistics and calculus. Oehrlein said he was surprised that he received the award.
" … There were are so many other people in the department who are just as deserving," he said. "I think we have a very strong math department."
Oehrlein said his favorite part of being a professor is when students come back to visit and tell him stories about their success.
Smith received the award in the Social Sciences Division. She has been a professor at OCCC for five years, teaching Intro to Sociology, family classes and more. Smith said winning the award is great.
"I mean, the award is related to excellence in teaching and your work in general, and the thing is, my colleagues in sociology and in social sciences are all worthy of that exact award. I'm really happy to be this year's recipient."
Her favorite part about teaching is seeing how college shapes people's lives.
"So often we encourage people to come to college to get that credential they need for that job they want and it isn't the most important reason to get an education by far.
"The most important reason by far about getting an education is becoming a better thinker and a better person."
Bailey, the recipient in the Chemistry and Biological Science Department, was unavailable for an interview.
However, the OCCC employee directory shows Bailey teaches general and organic chemistry. She has a bachelor's degree in chemistry from Cameron University in Lawton and a master's degree in organic chemistry from Oklahoma State University.
All NISOD 2014 Excellence Award winners will be honored at the Excellence Award Dinner and Celebration during the NISOD Conference held in late May in Austin, Texas.
For more information, visit www.nisod.org. The nomination procedure can be found at http://portal.luzerne.edu/documentspace/po/NISODExcellenceAwardRequestforNominationsSelectionNotificationandRecognitionofAwardRecipientProcedureOctober2.