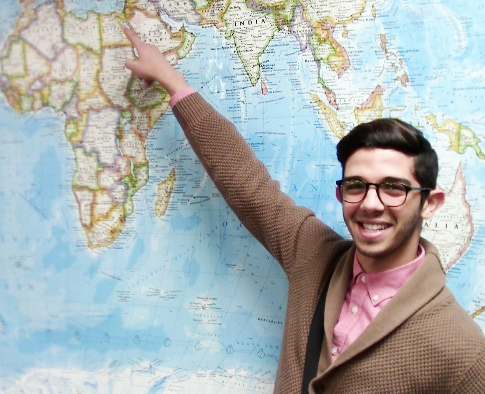 Born and raised in Alexandria, Egypt, pre-pharmacy major and international student Amr Elghondakly said the wide open spaces of the Oklahoma plains are nothing like the Egyptian cities he once called home.
Egypt is located in the northern part of Africa, Elghondakly said, and is considered a part of the Middle East.
Elghondakly said there are highways and skyscrapers in Egypt, but the socio-economic conditions are less than ideal.
Before moving to America in late 2011, he said, he lived in Egypt until he was forced to relocate due to political conflict within the country.
"I moved [to America] because, in 2011, there was political upheaval and a revolution started in the country.
"I think the main problem with the Egyptian society is we don't have a middle class. It's either you're poor … you don't have an education … or you're filthy rich.
"Everyone was so excited about [the revolution] … they were basically asking for equality for everyone … [but] Egypt still is a Middle Eastern country and things there aren't really stable to begin with."
He said there were often clashes between Muslim radicals and other political entities during the revolution in Egypt.
"It was really ugly there … people were opening prisons … It was really not safe."
Elghondakly said his parents felt it was best for him to relocate to America to ensure his safety.
Upon moving to Oklahoma, Elghondakly said, he was surprised to find everything much bigger than what he's used to.
"Bigger houses, bigger roads, bigger meals … I had a culture shock when I moved here because everything was kind of stretched out.
"I didn't know there was a place called Oklahoma to begin with … it was a huge difference. "I lived in a coastal city [in Egypt]," he said.
"It's kind of a small city, but we don't have much cultural or ethnic diversity like [in America] … we have like, our own small culture."
Elghondakly said before moving to Oklahoma, his idea of America consisted of the Statue of Liberty, the White House and Broadway musicals.
But, he said, living in Oklahoma has taught him aspects of American culture that he couldn't have learned anywhere else.
"I think this part of the country and Oklahoma … all of this is the real American culture," he said.
"I think it's a different experience for me."
He said Oklahoma's hometown feel, such as its love of country music, is what makes it feel truly American.
"I won't say I don't like [Oklahoma] — it's just kind of different," he said.
To contact Elghondakly, follow him on Twitter @Ghonda33.