Playwright professor takes musical on tour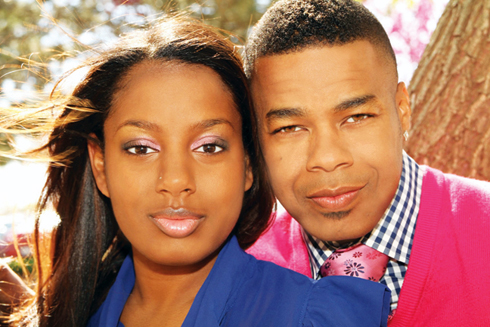 Rachel Morrison/Pioneer
Michelle Hardin of Ohio plays Kisha and OCCC Professor of English Tyrone Stanley plays Mozes in Stanley's musical "Soul on Fire". The next performance of the show will be in Lawton June 4 at the McMahon Auditorium located at 801 N.W. Ferris Ave. at 7:30 p.m. as part of a world tour.
Playwright Tyrone Stanley said his musical "Soul on Fire" is based on his encounters with a woman who dealt with the effects of sexual and domestic abuse. He said her struggles touched his heart and led him to keep a journal about it.
That journal turned into a song, which then led to 32 songs that comprise the musical which was performed in Lawton in mid-April.
Stanley teaches English Composition as an adjunct professor at OCCC.
Recently, Stanley learned, "Soul on Fire" has been chosen for production on the main stage at the National Black Theatre Festival in North Carolina that runs Aug. 6 through 11.
Stanley said the most valuable message of his play is: Pain can only be detrimental if you hold it inside.
"You've got to break the silence because it's the only way you can heal," he said. "You must speak out, forgive and choose love over hate."
The musical was performed in Oklahoma City before going to Lawton.
Stanley said the problem of family violence is universal.
His story is about a woman and her community. He said he didn't want to write about black people or white people but, rather, a story about people that crosses color lines. Although African-Americans are playing these roles, Stanley said, he does not want people to associate it as a "black play."
"That is exactly what it's not," Stanley said. "We don't call 'Oklahoma' or 'Hairspray' white plays. It's a musical. It's not about the color of the skin. The color of the skin does not make the product; the artist makes the product."
Stanley said he didn't always want to write — he was performing in musicals and plays in New York before going to graduate school. At some point, he said, he began to feel a lack of reality and passion—he wanted something that would affect the audience. He wanted them to come into the theater one way and leave differently.
He moved to Oklahoma from New York temporarily to complete his degree in playwriting from the University of Central Oklahoma. He wanted to hone his talent for playwriting as well as learn the correct format.
He said he would eventually like to go back to his passion of acting, hopefully doing his own work.
"In New York," Stanley said, "there is a melting pot of people who are really colorblind. To go from there to Oklahoma was a bit of a shock."
Stanley said he loves Oklahoma for its quiet — aside from the tornadoes. He believes that Oklahoma provided him some of the serenity he needed to finish his work.
"Soul on Fire" will be performed again at 7:30 p.m. June 4 at the McMahon Auditorium, 801 NW Ferris Ave in Lawton.
For more information about the musical, go to the website www.soulonfirethemusical.com.