Pioneer staff share holiday thoughts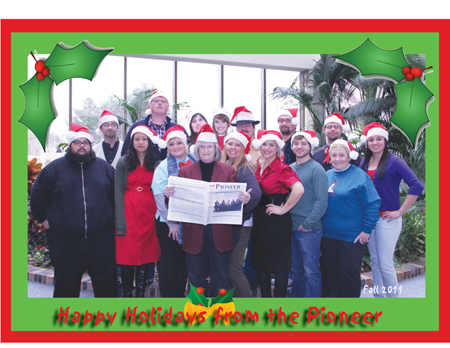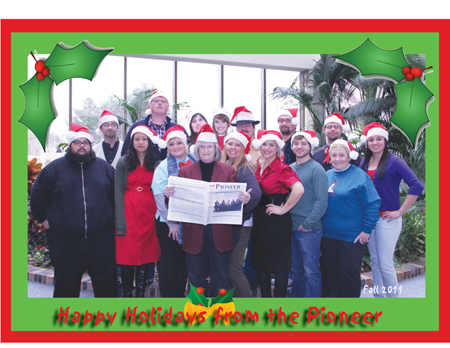 The Pioneer staff recently got together to share favorite holiday memories, songs, movies, and more with our readers.
To share your holiday-related thoughts with us, leave a comment on our Facebook wall at www.facebook.com/OCCCPioneer.
Casey Akard | Videographer "This year I'm looking forward to spending Christmas with my brother, who just returned from overseas. I am looking forward to listening to my favorite holiday CD, Lorrie Morgan's "Merry Christmas From London," and looking at lights with him."
Morgan Beard | Staff Writer "I'm all about the nostalgia: playing Dreamcast video games and looking at Christmas lights."
Robert Bolton | Online Writer "My favorite part of Christmas is going and looking at Christmas lights with my mom."
Sean Tolbert | Sports Writer "My favorite holiday movie is 'A Christmas Story.'"
Aaron Donahue | Circulation Manager "My favorite part of Christmas is food and family."
Sarah Hussain | Staff Writer "I love eating peanut butter blossoms and spending time with my family."
Whitney Knight | Online Editor "When I was younger, I always looked forward to getting presents. But now that I've gotten older I really find joy in giving. I have had so much fun this year going all out on gifts for my friends and family."
Cynthia Praefke | Advertising Manager "I love eating sugar cookies and drinking hot cocoa. Every year, I take my great-grandchildren to the living nativity and to see the Christmas lights in south OKC. Making memories is my favorite part of the holidays."
Emily Schorr | Senior Writer "I love being with family, the festivities, and the food."
Jeremy Cloud | Editor "I'm looking forward to the school break."
Priscilla Colley | Staff Writer "Every year since I could walk, my dad and I go and pick out the Christmas tree. That is my favorite thing about the holidays."
Mike Wormley | Community Writer "It was December of 2002. I was in a 'hold' company in the U.S. Army waiting to go into Airborne school. Randomly, another soldier began singing the B.C. Clark anniversary jingle. By the third time through, half of the barrack's bay had joined." To view a special Pioneer holiday video created by Videographer Casey Akard, follow the QR code with your smartphone! From all of us at The Pioneer, have a joyous holiday.
To contact The Pioneer Staff, email editor@occc.edu.