Student film set to premiere at local theater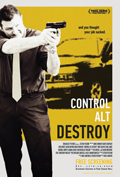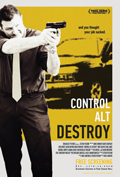 An OCCC student film will be screened at 10 p.m. Saturday, Dec. 17, at Penn Square Mall's Dickinson Theater.
Speaking about his film "Control-Alt-Destroy," OCCC film major Nick Sanford said he is looking to give moviegoers a chance to rekindle their relationship with what, he feels, movies are suppose to be about: entertainment.
"Movies are a lot different than they used to be," Sanford said.
"We're just trying to get back to a simpler form of filmmaking — we're getting sick of 'goofy, artistic' movies that [only] four people get and that, somehow, still get funding."
"Control-Alt-Destroy" was shot on a budget of approximately $5,400 over the course of 13 days in June. It follows three peculiar office workers who discover that armed thieves have overrun their offices and taken the staff hostage.
Sanford described the movie as an attempt to return to "the basics" of what films can be for moviegoers: a fun, engrossing escape, peppered with some action and humor.
"It's satirical in a way," Sanford said.
"But for the most part it's a fun 'action' movie that doesn't belittle the intelligence of the audience like a lot of films that are being released seem to do."
The project, a brainchild of Sanford and OCCC Film and Video Lab Assistant Steven Patchin, had been two years in the making, was captured at a location he knew exceptionally well.
"We have a family-owned office building where we would go after hours and we suddenly thought to ourselves: 'we really need to shoot something here'," he said.
"But [office] comedies have been done — let's do something like 'Die Hard'."
Creating a film with a budget and hiring a crew were not luxuries that Sanford had become accustomed to so assigning responsibilities to others didn't faze the experienced filmmaker.
"It was very different from high school — I wasn't used to having a crew," Sanford said.
"But it wasn't hard [to delegate] because I trusted everybody and it took a lot of stress off of me."
Sanford cited some of the key creative elements of the film as the cast and crew themselves.
"The core actors were all improv artists from around here," Sanford said.
"Probably 60 to 70 percent of the dialogue was made up by them on the spot."
Sanford was also helped by fellow OCCC film students behind the camera as well.
Experienced OCCC student filmmaker Shawn Barfield worked as Sanford's director of photography.
"[Shawn] was amazing to work with and brought a lot of experience to the production," Sanford said. "He really helped me to create the look I was going for."
Along with Barfield's work, Sanford was aided on the production side of the film by Patchin.
"Steven really helped organize the crew for us," Sanford said. "There were producers that contributed funds to us but it was Steven who brought the production side together."
One process that took the majority of Sanford's time was editing the film.
"I started editing the film the night after we wrapped shooting and put the finishing touches on it around Nov. 5," Sanford said.
"Most of the time went into constructing sound rather than the actual cutting of the film itself."
The finished product was first sent to the Oklahoma-based Trail Dance Film Festival in Duncan, and Sanford said he hopes to continue to be accepted at other festivals.
"We're going to try and get into as many festivals as we possibly can," Sanford said.
There is one festival in particular that Sanford is shooting for above all others, however.
"We've entered the film into consideration for SXSW (South by Southwest) in Austin; we're not getting ahead of ourselves but we're hopeful," he said.
Before any festivals screen the film however, friends, fans, family and students will have the opportunity to see the film for themselves. Sanford is optimistic about the turnout.
"We're hoping to pack the theater's 181 seats," he said.
"We hope that it's funny and entertaining because we're really happy with how it's turned out."
For more information, visit the film's Facebook page at www.facebook.com/controlaltdestroymovie.
To contact Sean M. Tolbert, email sportswriter@occc.edu.