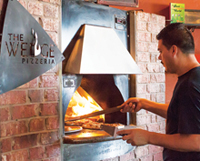 Chris James/Pioneer
Pizza chef known as "The Jesus" tends pizzas cooking in the wood fire oven on July 15 at The Wedge Pizzeria. In addition to having a wide variety of toppings The Wedge uses pecan wood to cook their pizzas.
The Wedge Pizzeria was one of the first places in Oklahoma City to create delicious thin crust pizza the way it was meant to be: cooked in a wood fire oven. For many, The Wedge has become an OKC favorite.
Located at 4709 N Western Avenue, The Wedge serves appetizers, salads, gelato and of course, pizza. The Wedge offers a variety of fresh toppings, as well as coffee, beer, mineral water, tea, wine, Coke products and Italian sodas to drink.
Last Saturday, July 14, I had a pizza topped with locally-raised roasted chicken, fresh mozzarella and basil leaves, with a roasted garlic sauce. I went back the next day for a pepperoni, fresh mozzarella and marinara pizza. Both were excellent.
The crust was thin and tastier than most, but was less than crisp under toppings. This is understandable considering the thinness of the crust and the actual quality of toppings. It is definitely a fair trade, but make sure to use the spatula when lifting a slice.
Their toppings are great, but what I think puts The Wedge a slice above competitors is actually how the pizza is cooked.
A man employees call The Jesus has been responsible for producing pizzas, pecan wood-fired to perfection, for the past three years.
The Wedge takes pride in preparing food from scratch every day with the freshest ingredients available.
When I visited Sunday, General Manager Elena Farrar was preparing a couple of plates of skillet potatoes, prosciutto, eggs and toast. I asked if that was on the menu. Farrar said that it wasn't, but a customer had ordered it.
The meal was apparently prepared from ingredients they already had available in the restaurant.
"If it can be done, I'll do it," Farrar simply said.
Overall, the Wedge seems to be about serving high quality food with pride and care.
You can stop by for a terrific dining experience inside, outside on a patio or order carry out.
Operating hours are from 11 a.m. to 3 p.m. Monday through Thursday for lunch, and 5 to 10 p.m. for dinner, 11 a.m. to 3 p.m. Friday for lunch and 5 to 11 p.m. for dinner, 11 a.m. to 11 p.m. Saturday and 11 a.m. to 10 p.m. Sunday.
Rating: A+
—Chris James
Pioneer Staff
To contact Chris James, email pioneerphotog@occc.edu.