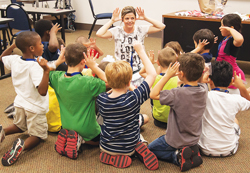 Chris James/Pioneer
Teacher Julia Gatlion begins circle time in Got Grammer? summer camp with an exercise to get the children's attention focused on listening on July 12.
The Family and Community Education Center is helping keep young minds sharp over the summer with a variety of camps targeted at children in first through eighth grades.
Some of the camps offered focus on geography, science, computer skills, sewing, music, art, math, college prep and even personal finance.
The teachers keep the children interested and learning with activities like educational games, videos and practical application.
Each class is one hour, 45 minutes, and costs $39 per child with a $99 discount students enrolled in all-day classes.
Lunch is provided by John Glenn Elementary.
For more information, or to enroll a child in one of the camps, call 405-686-6222.
To contact Chris James, email pioneerphotog@occc.edu.