Oklahoma poetry discussion focus of Brown Bag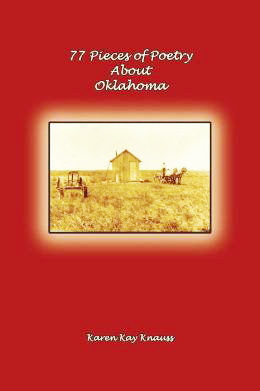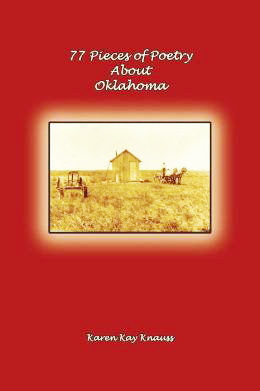 Local poet Karen Kay Knauss said she plans to share the beauty of the Sooner State as she presents her new book "77 Pieces of Poetry About Oklahoma" during an upcoming Brown Bag Lecture Series from 12:30 to 1:30 p.m. March 25 in CU3.
Knauss said her book is a collection of poems about Oklahoma's 77 counties.
"Each county has a poem," Knauss said. "I'm hoping to take the book to every county in the state and do a poetry reading."
During the lecture, Knauss said, she will discuss her book, its design and share a selection of her favorite poems.
"I will be speaking about how the book was designed and the nature of it," she said. "I'll also be introducing the different forms of poetry that are used throughout the book."
Knauss said she completed extensive research before publishing her book. She said it's been a nearly two-year process getting "77 Pieces of Poetry About Oklahoma" on bookshelves.
"I researched for one year," she said. "When I did my research … I chose the most interesting or the most colorful stories and events … and condensed them into a poem.
"I used various forms of poetry which gives the book good variety."
Knauss said the poems she's selected to read will focus on particular instances in Oklahoma's history. "Some of the poems will emphasize how the Civil War affected Oklahoma," she said.
"Some of the poems will discuss the waterways that were key to the development and exploration of Oklahoma."
"Others will talk about the early settlers who came in to the unassigned territories … ."
Knauss said she will discuss five major topics the poems focus on. She said she also will explain how she blends historical context with different poetic forms to create her pieces.
Knauss said when she decided to get serious about writing poetry, she couldn't decide what to write about.
"Some of my poetry comes from personal experiences, some of it comes from my love of history," she said.
"Some of it comes from my curiosity about things I'm not familiar with or events in the past that have happened."
"There are so many things to write about," she said. "There's never a shortage of subject matter to write about."
Knauss said she is from Caddo County and earned a bachelor's degree from the University of Science and Arts of Oklahoma. For information about Knauss and her writing, email her at karenkay@pdli.net.