OCCC keeps jabbing with COVID vaccinations on campus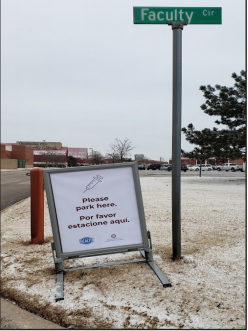 April 16 OCCC will once again be hosting a COVID-19 vaccination pod from 9 a.m. to 5 p.m. in the dining area of the main building.
No registration is required. Students who show up will receive the first dose of the Pfizer vaccine.
Though no registration is required to get the vaccine, students will need to print and bring a pre-vaccination screening form and a COVID-19 vaccination consent form.
Both forms can be found in an email sent out by Vice President for Academic Affairs Vincent Bridges on April 8.
"I think it's cool. It's very progressive towards helping students who don't have the COVID shot available to them," Isabel Silva, nursing, said. 
"Not only is it more accessible, it also gives people the opportunity to be persuaded to get the vaccine. I think the college is doing a great job bringing it for people who want it, without forcing the vaccine on anyone."
This vaccination pod is the third pod that OCCC has offered; however, it is only the second specifically for students.
The first vaccination pod was held March 26 specifically for OCCC employees and their immediate family members.
During the March 26 pod, employees received the first dose of the Moderna vaccine. Just like students, employees had to fill out pre-vaccination screening and consent forms.
Differently than students, however, employees were required to pre-register. 
OCCC held one other pod April 8. This pod also was 9 a.m. to 5 p.m. in the dining area of the Main Building.
During this pod, students were administered the first dose of the Moderna vaccine.
Students who have or will receive the vaccine are being told during their vaccinations when to return for their second dose of each respective vaccine.
Any faculty members who received the Moderna vaccine March 26 will receive their second dose April 23 in the dining area of the Main Building.
No registration is required. Employees only need to show up at the same time of their original appointments and bring the vaccination card they received March 26.
Despite requests for records about how many people have attended each vaccination pod, no information has yet been provided to the Pioneer.