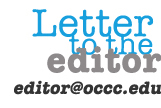 To the Editor:
One of the most magical adventures in motion picture history is coming to the big screen this summer — bigger and better than ever — as NCM Fathom and Warner Home Video present "The Lord of the Rings" Motion Picture Trilogy Extended Edition Event.
The Academy Award-winning trilogy will be featured in an exclusive series of in-theater events in June, including "The Lord of the Rings: The Fellowship of the Ring" June 14; "The Lord of the Rings: The Two Towers" June 21; and "The Lord of the Rings: The Return of the King" June 28, all beginning at 7 p.m.
During each event, audiences will view nearly an hour of additional feature footage per film with additional and extended scenes that were carefully selected under the supervision of director Peter Jackson. In addition, fans will be treated to personal introductions to each film from Jackson, which were captured on the set of his current film "The Hobbit", all making this an historic series that can only be experienced on the big screen.
Based on the best-selling novels by J.R.R. Tolkien, Jackson's movie trilogy is an epic journey of men, hobbits, elves, dwarves and the rest of Middle-earth's creatures and cultures. The trilogy chronicles the struggle of good versus evil with fantastic special effects and a strong emotional center; capturing the enduring fellowship and ultimate sacrifice while enhancing the chaos and destruction of Middle-earth.
"'The Lord of the Rings' Extended Edition Trilogy is a visual masterpiece that returns to the big screen to be experienced the way Peter Jackson intended: with the additional feature footage for each installment," said Dan Diamond, vice president of NCM Fathom. "Combined with all-new introductions to each event by Jackson, the exceptional quality of digital cinema and the one-of-a-kind experience the movie theater offers, 'The Lord of the Rings' Extended Edition Event marks a new landmark in cinematic history."
The following theaters will participate:
Tinseltown USA at 6001 N Martin Luther King Avenue in Oklahoma City, $10.50
Spotlight 14 at 1100 N Interstate Drive in Norman, $6.50 children/seniors, $7.50 students, $8.50 adults