Local filmmakers explore ritualistic bloodshed in new horror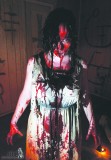 There is little "real" knowledge when it comes to satanic rituals, but local filmmakers found the talent and eye for detail to produce a frightening portrayal to complete their new short film "Servus De Infernum."
The original piece from the minds of Gary Berger and Josh Mowatt is available to stream on YouTube, and will be screened at the upcoming Midwest Horror Shorts Film Fest on October 28 at the Independent Artists of Oklahoma Gallery.
The film tells the story of a young woman, played by Katie Monroe, leaving her day job to venture into the woods to prepare herself for a ritual that ends in bloodshed.
It is a short film with a strong visual narrative.
The dark ambience the film displays is enhanced by the interesting audio work done by Scott Slagel and Cheryl Corey, incorporating whispers and white noise to disturb and discomfort.
A subject as touchy as devil worship is something very taboo in the South. The rhetoric has always been centered around the conservative values within people and places of power, and many don't even talk about religions such as Satanism or Wicca, which Berger wanted to explore.
Berger ran a haunted house for years, which helped develop a fascination and appreciation for the look and feel of horror that always stuck with him. "That was kind of the natural fore. I'd build my own props, we'd do our own set design," he said.
The movie was an original idea he came up with on the drive home from Pauls Valley. "The things you think of on an hour long drive you know? We found the filming location first, and then that kind of bred the idea for the movie."
Berger did his research for the film's material, as he wanted it to be detailed and accurate. From the chants to the writings on the wall, Berger found most of the information he needed within the Satanic Bible.
"I did a lot of research when it comes to the chant that she was doing in the ritual within the movie. My actress Katie, she did a lot of research on making sure her latin enunciations were correct. We made it as legit as we possibly could," he said.
Artistic liberties were taken as Berger wanted to keep the ritual short, but he said the integrity of it was intact. "I took the first four or first five lines of the chant directly from the book, then I added in the last line 'Servus de Infernum' to tie in the title and to say that she was a servant from hell," Berger said.
Berger and Mowatt plan to stick to horror for their next project, "The Final Photograph."
"It's probably our most ambitious project yet. I want to say it's a short film, but it might end up being thirty or forty minutes long," he said.
You can find the short film "Servus de Infernum" on YouTube.