Librarian retires from OCCC after 10 years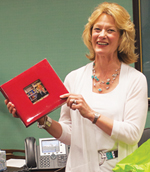 Chris James/Pioneer
OCCC Librarian, Linda Boatright, opens a gift from coworkers on June 28 at her retirement party in the OCCC Oklahoma Room.

OCCC lost a valued and well-liked staff member this summer when Librarian Linda Boatright retired after 10 years at the college, said Refernce Librarian Rachel Butler.
Butler said Boatright was known throughout OCCC for her dedication to students and her friendly personality.
Boatright offered orientation classes to new students who are unfamiliar with the library, Butler said. She also was a member of the Faculty Association scholarship committee, and was very active in outreach efforts and fundraising events.
Librarian Amanda Lemon said Boatright was great to work with.
"Linda has a way of getting the community motivated to get involved and donate. She really has a magnetic personality," Lemon said.
Lemon said OCCC's yearly garage sale was started by Boatright and will continue after her retirement.
Butler said each fall, staff members donate items to be sold and all proceeds from the event go toward student scholarships.
In addition to raising money for scholarships, students also relied on Boatright for her assistance with library matters and schoolwork.
"Mrs. Boatright [was] never too busy to help me find what I need in the library," said OCCC student Megan Richardson.
"She always [had] the biggest smile on. You [could] tell she really [loved] her job."
Boatright said she feels very lucky to have hard-working students who are eager to learn.
She said it was hard to make the decision to leave.
"The best part about being at OCCC [was] interacting with the amazing students … They [were] an inspiration to me.
Before coming to OCCC, Boatright said, she taught music in Purcell Public Schools.
She is currently a member of two choirs and performs in the annual Murder Mystery show at The Sooner Theatre in Norman.
She said she enjoys playing the piano and hopes to have more time to focus on her love of music after retiring.
Boatright said she plans to travel to Alaska, Ireland and Turkey. Her last day was July 5.
To contact Jennifer Sellers, email onlineeditor@occc.edu.