HB 1913: A path to deeper debt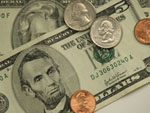 HB 1913: A path to deeper debt
House Bill 1913 was introduced by Rep. Chris Kannady, R-Oklahoma City, as an avenue towards more payday lending options. In Oklahoma, payday loans are advertised as a way for people to get emergency funds in the form of a short-term loan. However, payday lenders often prey on low-income borrowers by charging high annual interest rates and lending without proper evaluation.
Kannady's bill, also known as "The Oklahoma Small Loan Act," would allow lenders to charge 17 percent interest per month on loans up to $1,500. The interest paid on the "small loan" proposed by the bill would amount to an annual percentage rate of 204 percent.
This means a borrower would pay $301 each month on a 12 month loan of $1,500. By the end of the loan's term, the loan would cost $2,108.

Why should Oklahomans be concerned?
Oklahomans take out more payday loans per capita than any other state in the country. There are already more than 300 payday lending storefronts operating in the state. The businesses are highly concentrated in Oklahoma and Tulsa counties. House Bill 1913 merely makes it easier for payday lenders to trap poor consumers in a cycle of increasing debt.
When taking out a payday loan, the borrower must give the lender their bank account information, signing over upcoming deposits into the account. If the borrower has a $300 payment to make but only a $200 balance, the lender will attempt a $300 withdrawal, leaving the borrower with an overdraft fee.
The lender can continue their attempts to withdraw payments, burdening the borrower with a whole line of overdraft fees to repay on top of the loan payment.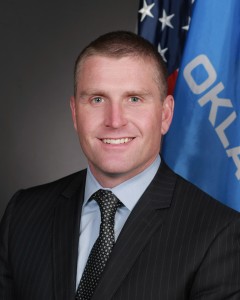 Under the current laws governing consumer loans, the maximum annual percentage rate on loans over $1,470 is 30 percent. If HB 1913 passes, the rate for a loan of $1,500 would be an APR of 204 percent.
In short, comparing the APR of two or more loans provides a quick way to compare the actual cost of a loan.
Is HB 1913 necessary?
David Blatt, director of the Oklahoma Policy Institute said there is "no real need for HB 1913." Blatt said there are already plenty of sources of credit for poor consumers; Oklahoma consumers already have payday loans, "A" loans (over $1,470), "B" loans, and signature loans (up to $1,470).
"For somebody taking out the $1,500 loan proposed in HB 1913, they're going to have to make payments of $300 every single month," Blatt said.
A poor Oklahoman family of four makes an average of $23,050 a year.  A $300 payment each month would take more than 15 percent of the family's paycheck, leaving families in much tighter financial straits. A difference of $300 could mean a decision between buying groceries or paying the utility bill that week.
Why was the bill written?
The CFPB is a government agency described as being built to protect consumers. Rep. Kannady, the author of the bill, said the CFPB instituted new rules last year that would "gut the [payday lending] industry in Oklahoma."
"The bill came about because if the mechanism of thes type of loans goes away, there'll be a segment of the population that will be hurt," Kannady said.
"You have a choice. If you're a single mom with two kids and your refrigerator goes out, you can't go to the bank, you can't get approved to get a credit card, which if you did, your credit card cash advance would be higher anyway," Kannady said.
"So your choices are to have a loan product like this that is regulated or you go down to see the local loan shark who charges you 50 percent and threatens your life if you don't pay him back in two weeks."
Blatt disagrees.
"They claim that the federal reforms, if enacted, would kill the payday loan industry and that the small loans authorized by HB 1913 would serve as a replacement," Blatt said on the OK Policy Institute website.
"There is nothing in HB 1913 that suggests that small loans would be a replacement for payday loans should those cease to exist. Instead, HB 1913 would create a new high-cost product in addition to payday loans."
"It's expensive to be poor"
Earlier this year, HB 1404 and HB 1596, authored by Rep. Mickey Dollens, D-Oklahoma City, would regulate payday lending in Oklahoma. Both bills were strongly opposed by payday lending lobbyists at the Oklahoma capitol and each died before reaching committee.
House Bill 1404 would have capped the annual percentage rate of payday loans at 60 percent.
When asked why he wanted stronger regulations for the industry, Dollens explained, "It's expensive to be poor, and unfortunately there are many constituents in my districts who are poor. When I was campaigning and going from door to door, this was one of the stories I kept hearing. Either directly or indirectly, someone was affected by payday loan debt."  
Dollens said impoverished families are looking for a way to pay their loans back.
"But it seems like every time they would pay on it, the next month they would owe more. They kept paying more and more, and just couldn't get out of the cycle of debt. They said, 'If I had just known about this, I wouldn't have taken out this loan to pay off the other loan,'" he said.
Dollens said his bills were not written to regulate the payday lending industry out of business. His bills would have allowed those who offer payday loans to still receive their fees while also creating a lending environment that would be possible for borrowers to climb out of.
"In Oklahoma, we have a strong payday lending lobby who will come in and say that a 60 percent cap will put them out of business. I can assure you that 60 percent will not put them out of business. 60 percent is still very high, but it's not devastatingly oppressive, like the 390 percent we have now," Dollens said. "I'm all for regulated capitalism, but the word there is 'regulated. You want the free market to work, but you don't want it to be rigged."
The relation of America's largest payday lending company and HB 1913
Before Dollens' bills died, I spoke to Jamie Fulmer, the senior vice president of public affairs at Advance America (the largest payday lending company in America). I asked Fulmer about his opposition to Dollens' HB 1404.
"We're concerned with the contents of his bill, because at the end of the day this bill doesn't regulate the short term lending industry, it eliminates the industry in Oklahoma," Fulmer said. "Consumers speak for themselves by walking into our centers all across Oklahoma everyday, because we provide important access to credit for them when they get caught between paychecks with an unbudgeted or unplanned expense."
The "unplanned expense" or "emergency" platform that Fulmer argues from is directly challenged by the numbers found in Oklahoma's Deferred Deposit loan database. The data shows that payday loans are used for recurring expenses more than "emergency situations." A majority of payday loan borrowers in the state take out an average of more than one loan a month, compared to just 5.4 percent of consumers taking out three or less a year.  
Fulmer explained the demand for payday loans stands by itself. "In a market based situation, we believe that consumers are smart enough to determine the cost associated with their options when they have a short term credit need, and they can evaluate those options and then make the decisions that is best for them and their families given their particular situation."
Blatt believes that payday loan outlets "absolutely" prey on low income families. "We're not really solving one set of problems, we're just creating new ones," he said. "Rather than throwing folks a life preserver, we're just going to end up pushing their heads even deeper underwater."
When looking at the data from a Pew Charitable Trust study outlining who uses payday loans and why, we can see that younger, lower income, immigrant and minority populations are most frequently targeted by payday lenders.
Who do our lawmakers represent?
Does my representative actually represent his constituents, or does he represent other interests?
When it comes to HB 1913, the answer is murky.
A quick search of Kannady's campaign donations brought up a 2015 donation of $500 from Advance America, LLC, the same place Jamie Fulmer works. I attempted to reach Fulmer for another interview, but received no reply.
"I don't remember receiving a political contribution from Advance America. I couldn't tell you who gave me money in 2014 or 2015, I barely remember who has given me money in this last election cycle. It's kind of like the payday lending industry, it's a necessary evil of politics," Kannady said.
"I don't go to dinner with a group or receive a political donation and make a bill because of it, and I never will. Those political contributions help you to get elected, but the people that matter are your constituents."
When asked what Jamie's role was in the crafting of HB 1913, Kannady replied, "I've actually never met Jamie Fulmer. He's just a point of contact, he's a media point of contact."
"The way I got involved with it was members of the industry approached some of us, that were in leadership in the house, and this last summer I actually went out to a couple lending locations, and was able to dive into the internal operations to better understand it," he said.
Rep. Kannady's constituents certainly will not benefit from the passing of this bill. Who will?
Opposition to the bill
In March, the Oklahoma Conference of Churches came together to stand against HB 1913. In their statement against the bill, the organization wrote, "As leaders of major Christian denominations in the State of Oklahoma, we believe that the way in which we treat the most vulnerable among us is a mark of our faith (Matthew 25:40)."
"Under current Oklahoma laws, the maximum interest rate on loans over $1,470 is 30 percent. On a $1,000 loan, existing law allows for a maximum interest charge of $394 over a twelve-month period, compared to $1,405 for the same $1,000 loan and time period under the new law proposed by HB 1913," they said.
"We believe this to be predatory usury which harms, rather than helps, the poor and which is unacceptable in our society. We call on all legislators to vote against HB 1913 to protect our most vulnerable fellow citizens."

Kannady said in response, "I'm still not conceptually a fan of these types of loans, but when I have all of these church organizations come out against the bill, my question for them is 'What are you going to do when someone comes off the street, and you don't have the money to loan them what they need?'"
What you should do about it
The bill passed the House last week with a 59-31 vote. The Senate will likely hear HB 1913 in committee between March 27 and April 13. It is essential that voters inform their legislators about their opposition to HB 1913.
You can contact the Senate author of HB 1913, Sen. James Leewright, and speak to him about your opposition to the bill. You can also contact your own senator, who you can find with the "Find My Senator" tool at oksenate.gov. Remember to tell them you are a constituent of your senator and ask them to please vote against HB 1913.
The OK Policy Institute offers a "talking points" sheet against the bill, found on their website at okpolicy.org. This fact sheet can help you to inform your legislator about the risks and costs associated with HB 1913.
We must protect the vulnerable borrowers that would be harmed by the harsh interest rates imposed by the bill, and now is the time to speak out against it.