Hall of fame nomination deadline Aug. 25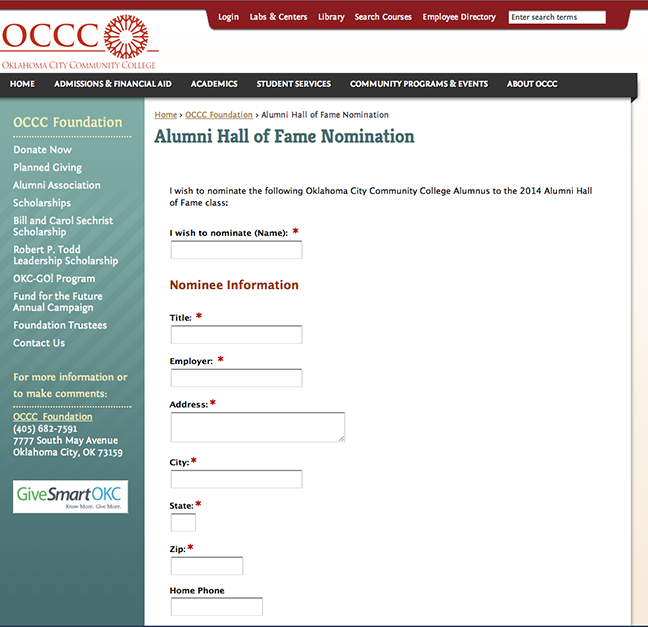 The deadline for OCCC alumni to be considered for selection into the college's Alumni Hall of Fame 2015 is Tuesday, Aug. 25, said Randy Cassimus, Alumni Relations and Community Development Associate Director.
"The Alumni Hall of Fame first began in 2006," Cassimus said.
"The purpose is to honor alumni who, from their time at OCCC, have gone on to accomplish significant things in their career field and community.
Cassimus said anyone can nominate someone, including students.
Those who are nominated must have attended OCCC, but do not have to hold an OCCC certificate or degree.
The person nominating also must answer certain questions such as "Why does this person deserve this honor?" and "How has this person improved the community?"
The nominating committee is made up of a small group of people, Cassimus said, including members of the alumni association board, OCCC staff and some past inductees.
He said once the selections are made, winners will be notified.
"The ones that are selected get honored at a banquet held at 6:30 p.m. Thursday, Nov. 5 in the Visual and Performing Arts Center," Cassimus said.
"We honor them, and their family and friends get to come. We would play a video about them, their lives and their careers.
"Then, they get to go up and receive their award from the president."
He said those honorees' names and pictures will be placed on the Alumni Hall of Fame Wall of Honor near the president's office in the Main Building.
"All the previous inductees from 2006 through 2015 are also on the wall," he said.
Cassimus said there are usually between six to 10 nominations made each year.
"My office encourages everyone to think of anyone they think should be honored for their service to the community, college or their success in their career. We love to know about them."
Admissions and Policy Compliance Coordinator Brandee Morgan was a 2012 inductee.
She said it's a "great honor and an amazing process."
"They have a very nice celebration," she said
"All the inductees write their own biography, send pictures, and they make a very professional video about us.
"We have a big dinner, and we can invite family and friends to come."
A former inductee from 2013, Sean Lynch, works as the Film and Video Production Equipment Coordination at OCCC.
He said he didn't know about the event until he was nominated.
"It is a great honor and amazing," he said.
Cassimus said to nominate someone, go to www.occc.edu/foundation/alumni.html and fill out the form.