Free On-Campus Counseling For Students in Crisis, Under Stress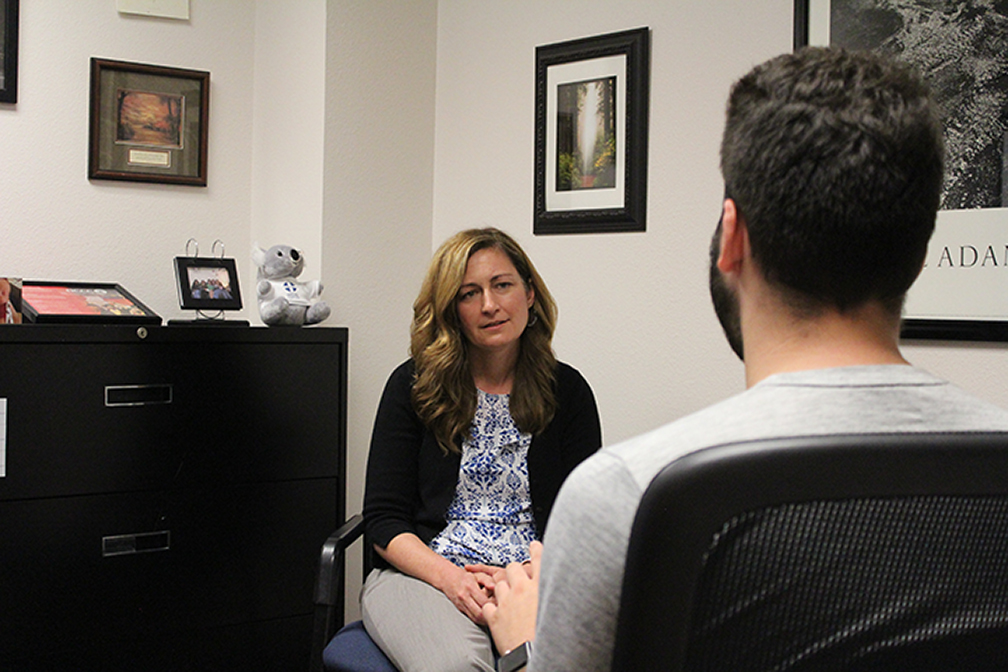 By: Maris Howard, Staff Writer
Research shows that students', faculty and staff members' brains work best when they think more positively about themselves, OCCC Counselor Jenna Howard said from her office in Student Support Services.
Student Support Services, which offers free counseling services as well as disability support services is across the hall from Testing and Assessment in the Main Building.
Howard said she has a lot of experience with new students and the fears they have when it comes to starting a new academic year.
She said she advises students to think of the big picture when they start to consider all the work they have to complete during the semester and to do what they can to work on time management.
"When students look at all they have to do in a class for the semester, it can be overwhelming, so one thing that can help is remembering that they have the whole semester to complete everything," she said.
"If they can organize their time, things don't seem so bad."
Howard is a Licensed Clinical Social Worker. She received her license in 2008 and began working as a mental health counselor in 2008.
From 2002 to 2009, she worked as Advisor to Students with Disabilities.
Her office in Student Support Services is next to Janey Stewart Wheeler, the other counselor on staff at OCCC. Wheeler has been at OCCC since 2013.
Howard said she finds it very helpful that the school offers free counseling for all students. She said students who may be struggling with depression, anxiety and relationship issues definitely have a place to turn to on campus.
Appointments are necessary as the office sees many students during the semester, she said. Hours are 8 a.m. – 6 p.m. Monday through Thursday and 8 a.m. – 5 p.m. Fridays. To make an appointment, call 405-682-7520
Howard said she sees the benefits of counseling for students because they are able to explore and process their challenges in a confidential and caring environment.
She said the counseling sessions give the students a better understanding of what is affecting them mentally and help them find coping strategies as well as healthier ways to think.
Howard said sometimes a significant challenge is students lack insurance causes them to believe they can't get additional assistance off campus.
Yet, if someone from the campus community needs more intensive help, the office provides referrals to outside resources, she said.
She said one such resource is HOPE Community Services which is the closest mental health center to OCCC. The organization often sends staff to OCCC to meet with students before taking over their counseling needs.
Another challenge Howard said students face is feeling disconnected because OCCC is a commuter campus.
"Many students struggle with connecting to other students in a community college setting because they are generally on campus for a short period of time and don't live on campus like many students at four-year colleges," she said. "So connecting to others can be difficult."
But, Howard said there are steps students can take to overcome the feelings of not belonging. She encourages students to join clubs to meet other students and get support.
"Sometimes interacting with others in clubs may help students with social anxiety to meet people and begin overcoming their fears."
Howard said faculty and staff can also assist struggling students. She said her office regularly provides Mental Health First Aid training workshops for all faculty, staff, and students as a way to identify when someone might be having a mental health issue or crisis and how to connect that person to services.
Aside from counseling in private, Student Support Services hosts a campus information event, "Stay Smart Safe and Sober" each October centered on being safe when drinking or using drugs. The event this year is Oct. 8
Howard notes it is important for everyone to take care of themselves and that having balance is the key to being mentally successful. Having enough sleep, saving time to study, and giving time to one's social life is not a bad thing, she said.
"Sometimes people get to the point where they are studying so much that they don't see their friends as much, which might not affect them in the short term," she said.
"But long term not having the social connection can impact us and make us feel depressed or isolated."
As human beings, all people need to stay consistent to being compassionate and positive to themselves, she said.