No Textbook Yet? Students Offer Off-Campus Options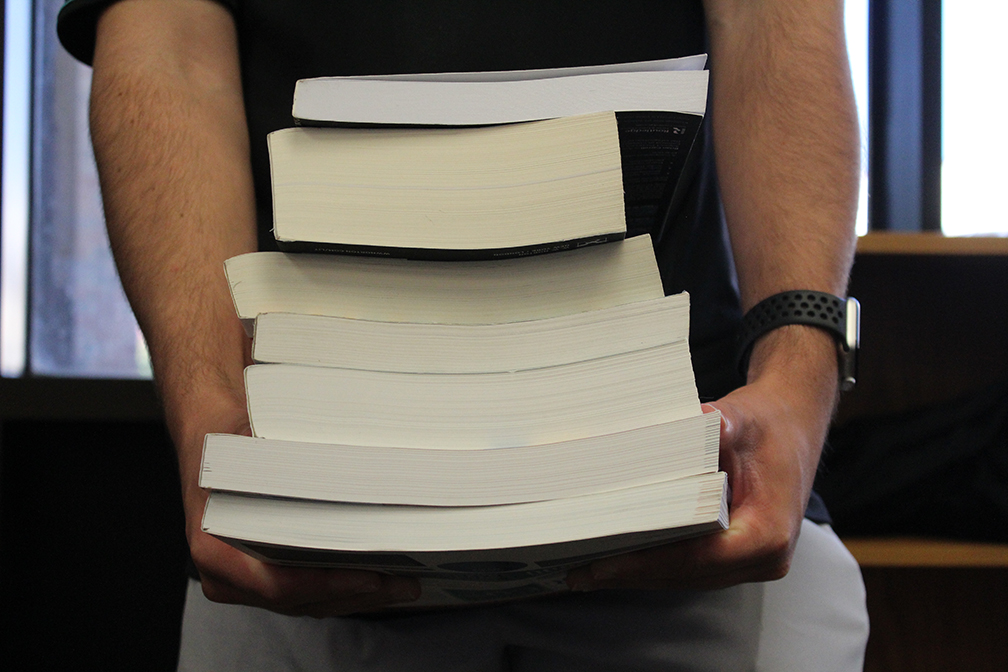 By: Venae Roan, Managing Editor
With the new school year starting, OCCC students may be spending more on textbooks than they need to or waiting to buy them until they know less expensive options for buying them.
There are many options, students advice.
One place OCCC students commonly buy their books and supplies is the on-campus bookstore. Students who receive financial aid, such as Pell grants, can use a student I.D. to purchase their books. Those charges then come out of any refund they'll receive from financial aid.
If students receive any type of grant or scholarship, the charges made in the bookstore get taken out of the refund they'll receive from financial aid.
For those who want to buy off campus and save money, there are several choices.
Ryan Gonzales, business, said he is attending his first semester of college at OCCC. He said he purchased his books at three places other than the college bookstore.
"It's a mixture between the people I know, Textbook Brokers, and the internet," he said.
Textbook Brokers is just north of campus at 7445 S May Ave.
Gonzales said he chose off-campus buying to save money.
"I knew there was a bookstore here, but when I actually came to look [at costs], it amounted to around $500 for all my materials. I found alternatives and spent just below $200."
The average price of college textbooks paid by a student is $1,168 per year, according to Chris Zook, who wrote "Infographic: Textbook Costs Skyrocket 812 percent in 35 Years". The yearly average for the schools is $250 spent on textbooks for students.
The article "The Comprehensive Guide To College Textbook Trends" by Thomas Harris' notes that between 2006-2016, the price of books increased by 88 percent. He said campus bookstores will increase the price of textbooks up to 28 percent on average.
"Don't be lazy and just go to the bookstore. Everyone knows the stereotype all students are broke, and it's pretty true," Gonzales said. "You gotta be willing to find alternatives to the bookstore".
Jacob Lumpkin, journalism, said he visits the campus bookstore but uses the prices he finds there to compare against Textbook Brokers and online sites.
"If I check the prices in the bookstore and see that they're a little high I'll go across the street to the Textbook Brokers and see what they have," he said.
"I'll also check Amazon to see, and they also offer any rentals as well."
Lumpkin said his family guided him in his search for lower prices.
"My mom told me always to look to see if I could find my books somewhere else besides the bookstore. She usually gives me a heads up."
Gonzalez and Lumpkin said they have been able to save a couple hundred dollars apiece just by doing a little research.
Zook's article points out that the price of textbooks grows four times as fast as inflation, making the textbook industry worth at least $7 billion dollars.
Due to the high prices of books, some students don't buy them at all.
Harris' claims 66 percent of students skip out of buying textbooks altogether.
Lumpkin said students can find ways to save on costs if they "Check multiple places. Don't just check a couple, look around, make sure you're getting the best deal on what you're buying".