Former student returns home to teach nursing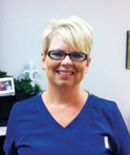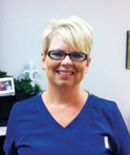 Cindy Milam
A former OCCC student returned to her roots when she accepted a full time position as a member of the nursing faculty in April.
Nursing Professor Cindy Milam graduated from Tuttle High School and came to OCCC for her basic college courses.
She then went to Oklahoma City University to earn a bachelor's degree in nursing. Milam is currently working on her master's degree at Southern Nazarene University.
Milam worked at Oklahoma Children's Hospital as a pediatric oncology nurse, where she cared for children with cancer.
Milam said she worked with many great nurses who graduated from OCCC.
She had served as a clinical adjunct professor for the nursing department at OCCC for about a year when she applied for a full time faculty position.
Nursing Program Director Deborah Myers said Milam is a very organized and mature professor.
"She has a strong passion for learning and teaching. She has a lot of enthusiasm and stands out in all areas."
OCCC's nursing program is one of five programs within the Health Professions Division. Milam is a part of the Nursing Process I teaching team.
"I have always wanted to teach and do nursing," Milam said.
"When I realized I could do both, I applied for the job.
"I work with a lot of great nurses at OU Children's Hospital who came from OCCC."
Milam said it was an easy decision to come back to teach at OCCC.
"My main priority in this position is to produce competent and intelligent future nurses coming out of OCCC," Milam said.
Milam's students are currently taking their clinical courses.
Nursing students have to do clinical coursework at the hospital, Milam said.
"They go to a hospital and take care of one patient and learn how to be a nurse.
"The adjunct professor facilitates the learning experience."
Milam encourages her nursing students to believe in their goals.
"If it's their desire and they study hard enough and work hard, they can do it."
To contact Crystal Rodriguez,
email onlineeditor@occc.edu