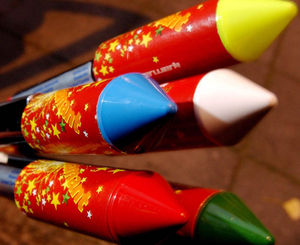 As the Fourth of July draws near, many will celebrate the occasion by lighting fireworks.
But when it comes to handling the explosive devices, Mustang Police Capt. Willard James said safety is a must.
Mustang, Choctaw and Okarche are among the few Oklahoma cities that allow citizens to sell and use fireworks, James said.
All fireworks, including childhood favorites such as snakes and sparklers, are illegal in Oklahoma City.
"The most important thing to remember when you're handling fireworks is to read the instructions on the package," James said.
He advised those handling fireworks to wear clothing made of flame retardant material such as coated nylon and rayon.
He said the clothes also should be tight fitting.
"The problem with loose clothes is, when you bend down you run the risk of catching the sparks on your clothing," James said.
If a firework is wet or you think it's older than two years, James said, lighting it can be dangerous.
"It's hard to get them to light," he said. "And if you do, they might not discharge properly and you'll be left holding a smoldering bomb in your hands."
He said everyone, especially children, should be supervised when lighting fireworks.
The most common firework injury burns are most often received by persons who tried holding a lit firework in their hand, James said.
"Always light it on the ground," he said. "Never attempt holding a firework if its burning."
After using a firework, James said to immediately soak it in water. In addition, he said, a water source should be kept nearby in case a fire ignites.
James said he recommends those lighting fireworks keep a cell phone handy, in case emergency assistance is needed.
If an injury occurs or a fire starts, he said to call 911 immediately.
For more information, visit the National Council of Fireworks Safety website at www.fireworksafety.com.
A full list of Oklahoma fireworks laws may be found at www.firework.com.
Click here to read about Fourth of July celebrations planned around the Oklahoma City area