Director clarifies confusion about cybersecurity degrees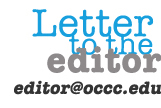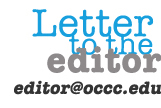 To the Editor:
The article 'Cybersecurity transfer degree canceled' in the April 8 Pioneer may have left some readers with the impression that transfer opportunities no longer exist for the Cybersecurity degrees. This confusion is understandable due to the unique nature of the Cybersecurity degree program.
The Associate of Science (AS) in Cyber/Information Security was recently suspended and removed from the catalog due to a lack of four-year institutions that accept the degree and the confusion it causes students who self-advise.
However, transfer opportunities still exist for students who pursue a four-year degree.
Oklahoma State University Institute of Technology (OSU-IT) in Okmulgee offers a Bachelor of Technology (BT) in Information Technologies to students with an Associate in Applied Science (AAS) degree. Students wishing to pursue this Bachelor's degree have the opportunity to complete their AAS degree at OCCC and then continue their education at OSU-IT.
The OSU-IT program requires that an AAS degree be obtained before enrolling in the BT program. Once the AAS is completed, students can then complete the last two years of the BT degree.  OSU-IT offers the courses for the last two years online and students only need to travel to Okmulgee for several Saturday orientation sessions on the required Internship and Capstone project courses.
Because OSU-IT conducts classes on a trimester versus semester basis, students can complete the last two years in as little as 18 months.
Tuition at OSU-IT is also more in line with that of OCCC than other four-year degree granting institutions.  Many OCCC Cybersecurity graduates have taken advantage of the OSU-IT program.
Currently, there are over 300,000 unfilled Cybersecurity positions.  The Department of Homeland Security (DHS) has stated that there will be a need for over one million Cybersecurity professionals by the year 2019.
OCCC is doing its part as one of the premier Cybersecurity education institutions in the nation.  OCCC was recently recertified by DHS and the National Security Agency (NSA) as a 'National Center of Academic Excellence in Cyber Defense Education (CAE2Y).'
Students wanting to learn more about OCCC's Cybersecurity programs should contact Al Heitkamper at aheitkamper@occc.edu.
RELATED STORY: Cybersecurity transfer degree canceled