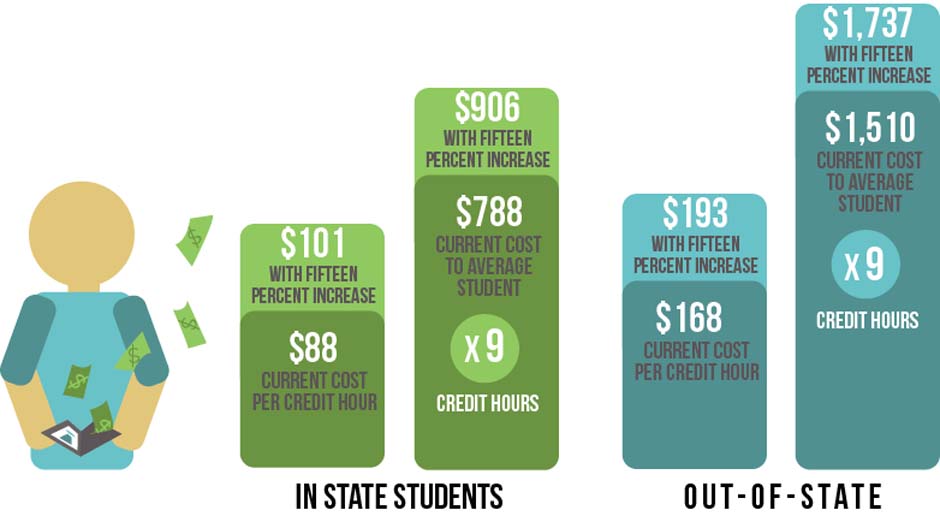 Tuition could rise as much as 15 percent this fall, an increase that has now been officially endorsed by The Leadership Council, a group of student representatives at OCCC.
The measure passed overwhelmingly with a council vote of 18 to 2, with 5 seats abstaining on April 7.
Tuition increases must be approved by both the OCCC Board of Regents and the Oklahoma State Regents for Higher Education before taking effect.
Raising tuition 15 percent would cost Oklahoma resident students an extra $13.13 per credit hour, and out-of-state students (including international students), an extra $25.17.
This cost excludes fees, which adds up to about $25 per credit hour for residents and $108 per credit hour for nonresident students.
At the TLC meeting, members were told that the average student course load is 9 credit hours per semester. A 15 percent increase would cost the average in state student an extra $118 per semester.
Student Life Director Erin Logan referenced the budget cuts the college has faced this year, and the ominous climate of higher cuts coming next year, as the reason for a tuition hike.
She said a 15 percent increase would earn the college an extra $1 million each semester.
Derek Scarsella, TLC co-chair, voted in favor of the tuition increase.
"We all kind of have to pitch in and help a little bit," Scarsella said.
She said that the tuition increase is a good way to make up for a portion of the cuts that OCCC is facing.
To prepare for the vote, Scarsella said, TLC members became involved in a budget discussion with Acting Executive Vice President Steven Bloomberg.
After being proposed the increase on March 24, the TLC representatives went back to their clubs to gather feedback from their organizations in deciding which way to vote, said Scarsella.
Marylin Segura, TLC representative for the Hispanic Organization to Promote Education, said that she thought the 15 percent increase in tuition was an appropriate amount but she took consideration in her vote.
In general, Segura said, members of H.O.P.E. would probably oppose the measure.
"At first, I was kind of going to the 'no' side just because there are single-parent students, there are students who are maybe not legal and they have to pay out-of-state tuition, so I feel like that was going to be a big increase on them. But yet again I feel like eventually in the future it's going to affect everyone and there will eventually be an increase— so why not get it started now?"
Agnostics, Atheists, and Freethinkers President and TLC Representative Trey Gourley voted for the tuition increase as well.
"I think it was the best thing that we could do in a bad situation." Gourley said. "We are dealing with the state legislators' bad decisions."
He said he voted for the increase hoping to set some limit on the rising costs of tuition for the future.
"I'm not saying that I support them raising it that much but at least if this year follows the trend of the history of them raising [tuition], it will be less than that as opposed to being more. Fingers crossed but yeah, I feel confident in my vote."
Gourley said he discussed the proposed increase in tuition with 10 to 15 AAF members before voting.
"Mixed bag of feelings, but I think that most people recognize it as a necessary evil—something that we have to do whether we want to do it or not."
Tuition increases are not new to OCCC. Tuition has been raised three times in the last nine years.
Tuition was raised $5 per credit hour for all students in fall 2014. Similar increases were made in 2010 and 2008.
Gourley said that if another tuition increase is proposed next year, fees or other revenue streams could be looked at instead of tuition.
As a comparison, at the March 24 TLC meeting Scarsella presented representatives with the cost to attend Rose State College in Midwest City. At Rose State, Oklahoma residents paid $91.50 per credit hour last fall, and out-of-state students paid about $325.
Resident tuition at Tulsa Community College, the largest community college in the state, is about $91. Out of state tuition at TCC is about $297.
"If each student is paying an extra $113 per semester I think that is doable," Scarsella said. "Now if we start looking at $200 plus a semester per student I think we are getting into some troublesome territory."
"But we've got to do something. We can't just let the school close. At this point, we would have to cut back to just the bare bone minimum services."
Christian Castro, TLC representative for Psi Beta, the campus psychology club, said that he voted against the tuition increase though he knew it would pass.
He said that increasing tuition is fundamentally not a good decision down the line.
"[A 15 percent increase] may not be so much per hour to the student but like adding that on to student loan debt, that can effectively double student loan debt."
He said that the cost to adding to that debt is simply too much.
"That's like literally another semester of classes that somebody could take. That is literally like going into another minor in order to specialize into a field that the student wants to take. Now that's going to bar certain students from taking that minor."
He said state politics factored into why he could not vote for the increase.
"I also thought that Mary Fallin's decision to cut education is really a significant one. It's like really? That's literally what is getting us in this mess in the first place," Castro said.
Petroleum excise taxes depend on how much the average barrel of oil fetches on the market.
Castro said that not voting for an increase in tuition is an act against state officials.
"Really I thought that that was the best decision to basically like protest Mary Fallin," he said.