College Clubs Come Together For Fall Carnival Indoor Fun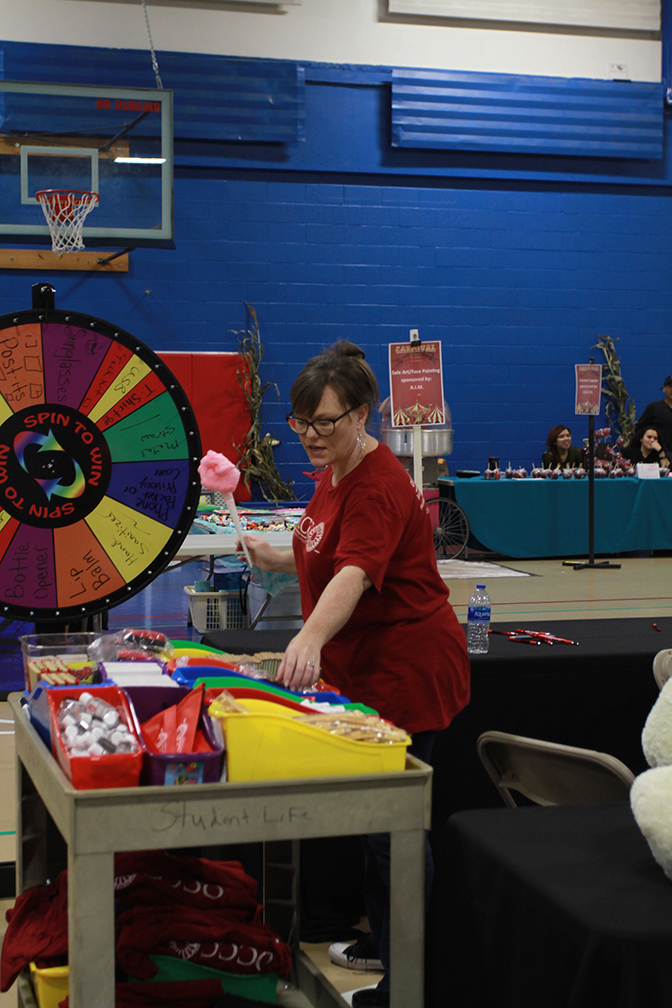 By: Angelo Lopez and John Benson, Staff Writers
OCCC kicked off the fall with their first Fall Carnival, Oct. 10, in the Recreation and Fitness gym.
This is the first time in over two decades an event like the Carnival has been held, and it was organized by Student Life and the Student Government Association. Students were able to enjoy carnival inspired games such as Cornhole and High Striker.
High Striker is a classic carnival "test of strength" game in which the player must hit a hammer against a pad in an effort to exert enough force to lift a puck to the top of an attached tower, ringing the bell.
Each carnival game was presented by a different club on campus, bringing an opportunity for students to meet new people and organizations.
Despite meticulous planning, the Carnival had to undergo a change of location just 24 hours before the event.
Originally planned to take place in the breezeway between the Visual and Performing Arts building and the Main building, the event was forced inside due to the threat of rain.
Randy Cassimus, Director of Student Engagements and Alumni Relations, said organizers had a contingency plan in place in the event of weather.
"We had a detailed "rain plan" ready to put into action, if necessary," Cassimus said in an email.
"We knew we would need to make that call no later than the day before – which we did due to the weather forecast," he said.
Cassimus said the only major change made to move the Carnival indoors was to remove the decorative straw bales as a courtesy to students and faculty with allergies.
Club participants also played games at other club's booths or competed against students and faculty.
OCCC students said the inaugural Fall Carnival was a success.
"I think there should be a festival like this every semester because it's so much fun," said Mercedes Meeks, nursing.
Augustina Moreyra, business-accounting, also said the carnival and others like it are important for students and the college community.
"It gives students an opportunity to have more time for fun with other friends and students on campus," she said.
This event allowed the students, faculty, and club leaders and members alike, to temporarily leave behind stress of midterms while also finding a new way to mingle with others at OCCC.
In this indoor event, students, faculty and staff participated in entertainment stations such as ring-the-bell, a cake walk, and an art exhibition among many other forms of fall fun the Carnival offered to the students.
Student Danielle Stillman said the fall carnival brought together OCCC students.
She also said that having an art exhibition stand gave art students a way to showcase their work, which is valuable to those in the community of artists that seek representation in the college.
She said involvement in events like this is an important part of being a student at any college as it builds community and connections which can help students live through their college career with comfort knowing they have people who support and can help with guiding them.
Stillman also said that she liked her involvement in the carnival as it was a way for her to put her artwork on display for other students.
Cassimus said that the carnival becoming an annual event is more likely.