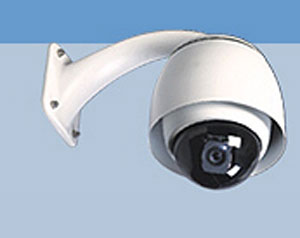 There are 235 surveillance cameras throughout campus, said OCCC Police Chief Jim Fitzpatrick. Along with basic security cameras, there are approximately 15 four-way view Mobotix cameras.
They are located in areas such as the Wellness Center, the Student Union, and parking lots, he said.
Any place a student walks on campus is under surveillance, except for areas that would be considered private, such as restrooms, locker rooms, classrooms and offices.
Fitzpatrick said police officers use the security cameras proactively by viewing them in real time, looking for suspicious activities from their police vehicles.
Also the cameras are used after the fact for "rebuilding" what happened when crimes are committed. In some cases, students can be traced from the time they come onto the campus to the time they enter a classroom.
"Once something is reported to us, and somebody can give us a point of reference, we can generally go back and rebuild everything that happened," Fitzpatrick said.
He said the majority of parking lots are covered, so it is not a difficult task to figure out who has caused damages to unattended vehicles. In at least one case, charges were filed against an OCCC student who hit an unattended vehicle. The student was followed on security camera footage until he was identified.
Student Andrew McDonald knows the cameras can help with an investigation.
On Friday, Oct. 26, at approximately 12:30 p.m., in parking lot D, McDonald's driver side window was broken and his Manfrotto tripod stolen. The suspect was driving a green, slightly older, model pickup truck, possibly made by Chevy.
Thankfully, McDonald said, he had left his more expensive personal belongings in a safer place, as he usually does. He viewed the security camera footage and filed a police report.
The suspect's truck can be seen entering the college campus, parking next to McDonald's vehicle, where he sat for approximately seven minutes before he smashed McDonald's window.
So far the suspect has not been identified and no charges have been filed at this time. However, Fitzpatrick said, should he return to campus, he could be taken into custody and questioned about the theft.
Aside from using the security cameras to investigate crimes, they also are used when a fire alarm goes off to see if there is an actual fire and if the sprinkler systems are working, or if it is something less concerning.
"In most cases, it is almost always burnt popcorn," Fitzpatrick said.
Also, when an item is stolen on campus, it can be reported to the campus police in the Main building. With provided with the date and time the incident occurred, officers can possibly identify who stole the item via security camera recordings.
For more information, to report a problem or to reach the campus Police Department, call 405-682- 7872.