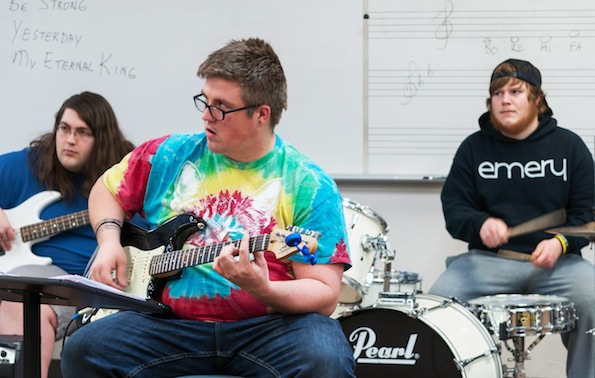 Two original songs by vocalist Jesse Sappington will be included in the 16-song set on tap at the Blues Band concert on campus at 7:30 p.m. Thursday, March 27, in the Bruce Owen Theater.
Sappington said his songs are inspired by life.
"'Dying' is a song I wrote after a heartbreak," Sappington said. "It's kind of a slow bluesy jam about how you give everything and it's not enough. And you finally say OK and you leave."
The second song is entitled "Runnin'."
"It's a really loud and intense tune," Sappington said. "It's about how you can try and run from yourself but, at the end of the day, you are left alone to face up to your shortcomings."
Sappington is a music major who also plays guitar and bass. He said Eric Clapton is his musical inspiration.
Guitar Professor Terry Isaacs directs the Blues Band, which has been practicing on Tuesday afternoons since the beginning of the spring semester. Most of the musicians are music majors.
"They've been working very hard every week for this first concert," Isaacs said. "I am very proud of them."
Isaacs went on to say that the Blues Band has worked up a list that also includes songs by several classic blues artists such as Howlin' Wolf, Stevie Ray Vaughan, and B.B. King.
Band members cited an eclectic group of musicians they admire.
"I'd have to say that Josh Homme (Queens of the Stone Age) is my favorite guitar player," said Jared Bross, 21, lead guitarist of the band.
Bassist Stanley Hall said Victor Wooten is his favorite bass player, "without a doubt." Vocalist Kelli Smid, 23, said she finds all types of music inspiring.
Drummer John Magelssen, 21, said his favorite drummer is Tony Royster Jr. ( Jay Z). "He's awesome."
Isaacs said two special guests will be performing at the concert. They are vocalist Richard Rouillard, 72, who is a retired professor and friend of Isaacs, and adjunct Professor Mark Giammaro, who will be playing keys.
Isaacs wanted all Music Appreciation students to know this free concert counts as a concert credit.
Magelssen said he wanted everyone to know this will be the "most bodacious concert of all time!"
For more information on the blues band, email terry.l.isaacs@occc.edu.